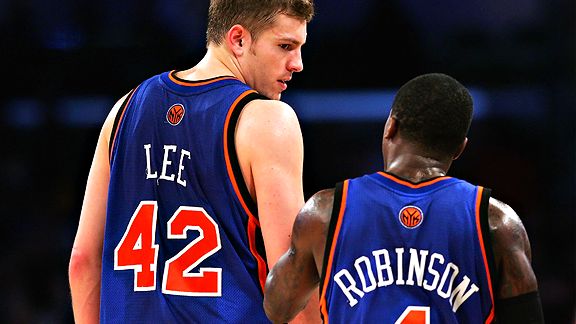 The New York Knicks have re-signed David Lee. Nate Robinson is close to a deal as well.
Lee's agent, Mark Bartelstein, told ESPN.com on Thursday that the sides have an agreement in principle on a one-year contract.

"We're on the verge of getting this done," Bartelstein said. "I believe David will sign the contract tomorrow."

The contract is believed to be worth $7 million for the 2009-10 season with incentives that could take it to $8 million if the Knicks reach the playoffs.

Fellow restricted free agent Nate Robinson has also reached terms with the Knicks on a one-year deal, according to a source with knowledge of the talks, that will pay him a higher salary than Robinson's $2.9 million qualifying offer.
The Knicks' stance has been clear all along. They are very reluctant to sign players to contracts that run longer than one year because they want to have as much cap flexibility as possible next season when they hope to woo a big-name free agent to New York.
If Lee's contract demands were more reasonable, he would have signed a multi-year deal with another team a long time ago. But his camp has demanded $8-$10 million per season this entire time, and the market just won't bear it. He's a great rebounder, but he's just an average defender and his numbers are a bit inflated because the Knicks play at a frenetic pace. By signing a one-year deal, he is risking the financial security of a mid-level deal that he no doubt could have signed had he been willing to reduce his asking price.
Would you rather have a guaranteed $7 million with a shot at a long-term deal averaging $8 million next summer or a mid-level deal that runs five years and a guaranteed $34 million starting this summer? If he suffers a career-ending injury this season, his decision to sign a one-year deal will cost him $27 million.
That's a lot of risk. After all, 27 million birds in the hand are better than 47 million in the bush, right?