2009 NFL Picks & Predictions: Week 3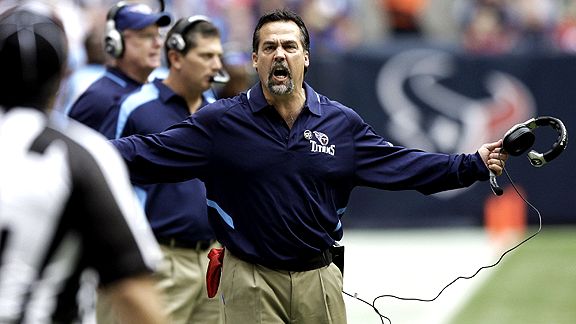 Here are my four predictions for Week 3 in the NFL. Last week I went 3-1 straight up (friggin' Titans) and 1-3 against the spread so as usual, gamblers should have no qualms about fading. (These are also my season totals since I didn't make any predictions for Week 1.)
Titans (0-2) at Jets (2-0), Sunday, 1:00PM ET
It would be foolish to pick against a hot team with everything working in their favor right now…right? Well, I'm going to do it anyway. Jeff Fisher's team is too good to be 0-2 and while I love what Rex Ryan and Mark Sanchez have brought to the Jets, the law of averages suggest that a rookie quarterback is going to struggle at some point. Tennessee's defense has a way of making opposing quarterbacks look bad (save of their performance last week against Matt Schaub, who threw four touchdown passes) and I'm willing to bet Sanchez suffers some growing pains this week. The key for the Titans is whether or not Kerry Collins can avoid turnovers while facing a New York defense that will use multiple fronts and attack him from all angles. Getting Chris Johnson involved in screen and draw plays would be beneficial for Tennessee, especially if the Jets' defense continues to be aggressive under Ryan. I don't see the Titans falling to 0-3 and I think Ryan and Sanchez's come down to earth a bit this week.
Odds: Jets –3.
Prediction: Titans 16, Jets 13.
Falcons (2-0) at Patriots (1-1), 1:00PM ET
This is the most intriguing game on the Week 3 schedule because it will serve as a great indication of where both of these teams are right now. The Falcons are 2-0 after beating two playoff teams from a year ago (the Dolphins and Panthers, respectively) and Matt Ryan is off to a tremendous start (108.5 QB rating). But Atlanta's defense will be tested this weekend against a New England offense that was held to only nine points a week ago and will no doubt be focused on rebounding. Tom Brady hasn't looked comfortable on his surgically repaired knee and seemed confused by the amount of looks that the Jets' defense gave him last week. If the Falcons can get creative with their front seven, they might be able to generate pressure on Brady and come up with a couple of turnovers. If that happens, Ryan has more than enough weapons (Tony Gonzalez, Roddy White, etc.) in the passing game to pick apart a Patriots' defense that is riddled with holes right now. It's usually unwise to go against Bill Belichick and the Patriots when they're pissed off and needing a win, but this isn't the same New England defense that we've seen throughout the years and I think Ryan will lead Atlanta to a huge victory at Foxboro.
Odds: Patriots –4.
Prediction: Falcons 30, Patriots 27.
49ers (2-0) at Vikings (2-0), 1:00PM ET
Who would have thought that the only game on the Week 3 schedule featuring two 2-0 teams would pit the 49ers against the Vikings? San Francisco's defense has played great in their two wins, taking away the opponents' passing attack and frustrating opposing quarterbacks. Thanks to Frank Gore, their running game has been outstanding as well, especially last week when it churned out 256 yards against Seattle. That said, the Niners' passing game has been a weakness and considering Minnesota will probably limit Gore and San Fran's rushing attack, it's time for Shaun Hill to step up and make plays through the air. I think the Vikings will control this game on the ground with Adrian Peterson and take away Gore in order to make Hill beat them through the air. They'll allow AP to open things up for Brett Favre and the passing game and eventually pull away in the second half to improve to 3-0 on the year.
Odds: Vikings –7.
Prediction: Vikings 21, 49ers 13.
Bears (1-1) at Seahawks (1-1), 4:05PM ET
Jay Cutler bounced back from his brutal showing in Week 1 to lead the Bears to a victory last week over the defending champs. Meanwhile, Matt Hasselbeck was injured in the Seahawks' loss to the 49ers and is questionable to play this Sunday. If Hasselbeck can't go, Seneca Wallace will once again get the start, which doesn't bode well for Seattle. The Hawks are a different team under Wallace then they are Hasselbeck and if doesn't start, the Bears' front seven should control this game by limiting the effectiveness of the underneath completions that Wallace usually relies on. If the Seahawks' defense is left on the field too long, Cutler should make them pay, as long as he can limit the turnovers. Chicago would be wise to get Matt Forte involved early and often and allow the run to set up Cutler and the passing game. I like the Bears in this one, especially if Hasselbeck (who didn't practice on Wednesday) can't go.
Odds: Bears –2.5.
Prediction: Bears 17, Seahawks 13.