What is going on with the Saints' running back situation?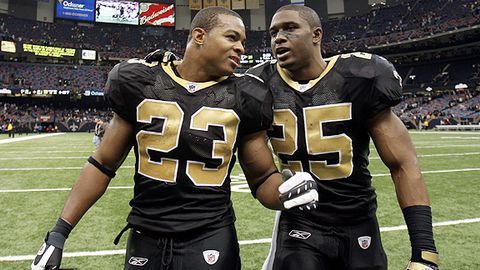 According to Saints' beat writer Jeff Duncan via his Twitter page, Lynell Hamilton took the first-team reps for New Orleans during practice on Wednesday. Duncan expects Hamilton to see a heavy workload against the Bills, which begs the question: What is going on with the Saints running back situation?
My question revolves around Sean Payton's obvious hatred (okay, so I'm exaggerating) for Pierre Thomas, who practiced on Wednesday but who still isn't seeing first-team reps in practice. I understand that he's been battling a knee injury, but if he went through practice on Wednesday with no complications, why is Hamilton expected to get the majority of the rushing load on Sunday?
It stands to reason that the Saints may have possibly soured on Thomas, whom many people (me included) thought would have a breakout year in 2009. Thomas was supposed to be New Orleans' every down back this year and the perfect complement to Reggie Bush. But whether it's his knee or the possibility that he egged Payton's house at some point during the offseason, Thomas has taken a backseat to other backs like Hamilton.
Just to get you up to speed on Hamilton, he went undrafted in 2008 and spent the entire season on the Saints' practice squad. He made the team this year as a fourth back despite fumbling twice in the team's preseason opener. Had Thomas and Bush not been dinged up entering the season, it stands to reason that Hamilton may not have even made the final roster.
And with that, it's perplexing that Hamilton would get the start over Thomas this week. Again, maybe Payton and the Saints are still worried about Thomas' knee and they're taking it slow with him. But if they've soured on him being a No. 1 back, then do him (and fantasy football fans for that matter) a favor and either release him or trade him to a team that could use a runner with his skill set.
Here's hoping Thomas eventually gets to shine in this league, because he certainly has the talent.
Unless this sorts itself out by week's end, the message is clear: Stay away from Thomas/Hamilton this weekend if you can. The Saints might be taking it easy on Thomas during the week so that he can start on Sunday, or maybe they don't feel good about his knee and are planning to give him another week by getting Hamilton ready to start. Hopefully, the Saints' beat writers will get some answers for us, but HC Sean Payton is tight-lipped about injuries, so we may not get any before kickoff.