Oregon coach refunds fan's travel expenses after loss to Boise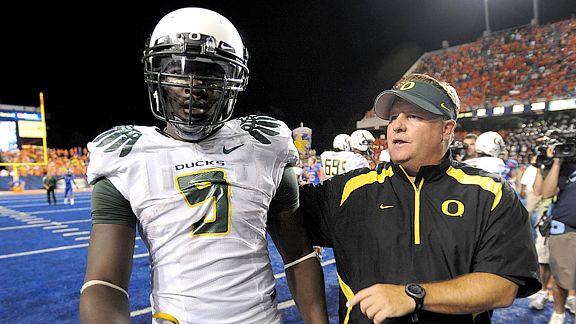 Following Oregon's embarrassing loss to Boise State on the opening night of the college football season, a Ducks fan was so upset about what he saw from his team's performance that he e-mail head coach Chip Kelly asking for a refund.
And he got one.
According to the Web site, Kelly replied to Seminary's e-mail with a question: "What is your address?"

Sure enough, a check for $439, apparently signed by Kelly, arrived in Seminary's mailbox, according to the Web site. Seminary was so impressed by the gesture, he returned the check to Kelly with a thank-you note, rather than cashing it.

"As a sales guy, it's really hard to shut me up," Seminary said, according to the Web site. "When I received that check, I was literally speechless.

"I think of Coach Kelly as a totally different person now," Seminary said, according to the Web site. "I have a different bond with him now. … Let's just say he lost every game as an Oregon coach. You would never hear me calling for his head. It just wouldn't happen. The guy showed an incredible amount of class."
I wonder what kind of storm Kelly just created for himself after this incident. Now every team he losses, he's going to have thousands of fans e-mailing him asking for a refund.
Nevertheless, this was a cool gesture by Kelly, who was incredibly upset by the way his team performed in Boise and the actions by running back LeGarrette Blount following the game in which he punched a Broncos player. I think a lot of people will agree with Seminary's sediments to Kelly and root for him in the future.
That said, he still has to win.