2009 College Football Picks & Predictions: Week 4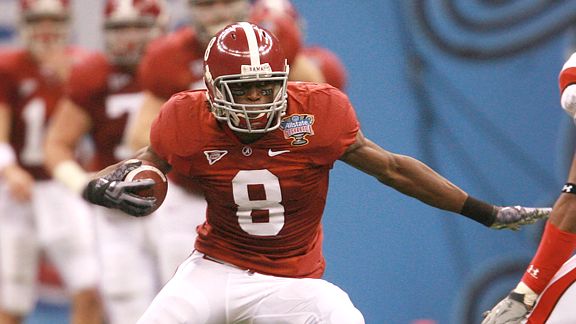 Here are my picks for Week 4 in college football.
Last week I went 3-1 straight up and just 1-3 against the spread, so gamblers – fade at will. (By the way, those are also my season totals because I didn't make picks for the first two weeks, although I probably would have gone 8-0 so feel free to give me the undeserved credit.)
Arkansas at No. 3 Alabama, Saturday, 3:30PM ET
Arkansas certainly has an offense capable of hanging with most opponents given the vertical weapons they have in Greg Childs, Jarius Wright and Joe Adams in the passing game. But 'Bama defensive coordinator Kirby Smart should throw a variety of looks at Razorback signal caller Ryan Mallett and use blitzes to help generate a rush. The Tide lack a pass-rushing presence on their defensive line, but their secondary is experienced and should handle whatever Bobby Petrino throws at them on Saturday. I expect 'Bama to take away Michael Smith, Broderick Green, Ronnie Wingo and the Arkansas' running game and force the Razorbacks to become one-dimensional. With Julio Jones expected back this week after missing last Saturday with a knee injury, the Razorback defense could be in trouble. 'Bama will look to take control of this game in the second half with a balanced offensive approach and pull away in the fourth quarter.
Odds: Alabama –17.5.
Prediction: Alabama 41, Arkansas 20.
No. 9 Miami at No. 11 Virginia Tech, Saturday, 3:30PM ET
The Canes are quickly becoming one of the more talked about programs in the nation this year courtesy of quarterback Jacory Harris. Thanks to an improved pass protection and his ability to see the entire field, Harris played exceptionally well in Miami's wins over ranked opponents Florida State and Georgia Tech, respectively. But the key to a Canes' victory will be running the ball to set up Harris and the passing game. Frank Beamer's squad has not done a good job of stopping the run so far this season and if Miami can get versatile running backs Javarris James and Graig Cooper some running room early on, they might set up Harris to make big plays in the passing game. Defensively, Miami could be burned by Tyrod Taylor's running ability if it doesn't stay disciplined when shooting gaps. Taylor, who has been more patient as a passer this season, needs to use his legs if he sees that the Canes are too aggressive up front. Miami must also contain running back Ryan Williams, who has been excellent filling in for the injured Darren Evans. While Blacksburg is one of the toughest places to play in college football, Randy Shannon has his team playing with a swagger and they won't be intimated on the road. This is going to be a thrilling game and one that might come down to the wire. I'm going with the hot team, however, and predict a win for Miami.
Odds: Miami –2.5.
Prediction: Miami 24, Virginia Tech 20.
No. 1 Florida at Kentucky, Saturday, 6:00PM ET
The Gators will make their first road trip of the year this week when they head to Lexington to take on a Wildcats team that has a lot of confidence right now after beating Louisville in a thriller last Saturday. While Florida soundly beat Tennessee 23-13 last week in the swamp, the Gators were severely lacking the big play as Monte Kiffin's defense kept them in check for most of the day. (Of course, Tim Tebow's two turnovers also helped the Vols keep things close.) Both teams in this matchup can run the ball (Florida is 2nd in the nation in rushing yards per game at 289.3, while Kentucky is 25th at 206.5), although this game will come down to whether or not Wildcats quarterback Mike Hartline can make enough plays in the passing game. Florida has beaten Kentucky 22 straight times, but up to six Gators missed practice this week while battling the flu so a trip to Lexington could be a more daunting task than what Urban Meyer's team is used to. Florida wins, but Kentucky covers.
Odds: Florida –21.5.
Prediction: Florida 27, Kentucky 13.
Michigan State at Wisconsin, Saturday, 12:00PM ET
Despite being 1-2, Michigan State has played well enough this season to be undefeated. But a lack of focus at the end of the fourth quarter cost the Spartans a win at home against Central Michigan in Week 2 and quarterback Kirk Cousins missed a wide open Larry Caper in the end zone last week in a loss to Notre Dame. Wisconsin, on the other hand, is 3-0 but it hasn't been a pretty 3-0 outside of their 44-14 stomping of non-conference cupcake Wofford last week. The Badgers had to stave off a late come back by Northern Illinois in their opener and also needed a field goal in double over time to beat Fresno. The Spartans will offer the Badgers their toughest challenge to date and I'm predicting a small upset for MSU in both teams' Big Ten opener.
Odds: Michigan State +3.
Prediction: Michigan State 33, Wisconsin 30.