Pass defense a concern for the Ravens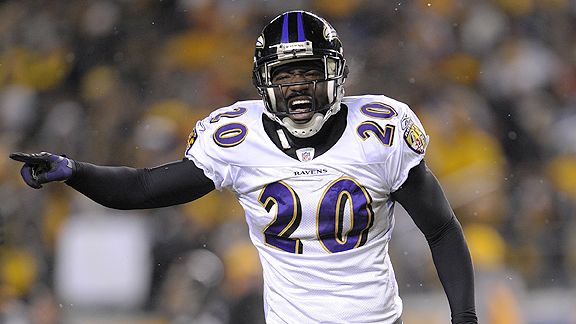 While they've started the year 2-0 and have a winnable game against the Browns coming up this Sunday, all is not right with the Ravens.
After two games, Baltimore's secondary has given up 580 yards through the air and 50 points. That's 290 passing yards and 25 points per game, which are two big reasons why the Ravens currently own the fourth worst defense in the league right now.
That ranking is jarring considering the Ravens have had one of the most feared defenses in the league for almost a decade and employ the likes of All-Pro safety Ed Reed in their secondary. But it's apparent that Baltimore's D is still transitioning from Rex Ryan to new defensive coordinator Greg Mattison's scheme and it might take a while for the unit to gel.
In trying to limit the effectiveness of the Chargers' screens and draw plays, Mattison used a lot of one-deep coverage last Sunday in San Diego, which allowed Darren Sproles, Vincent Jackson, Antonio Gates and Malcolm Floyd to make big plays in the passing game. Had Mattison used more two-deep looks, the Ravens might have limited the big plays.
The coverage woes aren't all of Mattison's fault, however. Fabian Washington has play more aggressive and Dawan Landry must get better in coverage so that Reed doesn't have to cover so much ground.
Defensive ends Terrell Suggs and Trevor Pryce also have to do a better job of generating pressure if Baltimore is going to continue to put its cornerbacks on an island. If opposing quarterbacks have time to throw, they're going to have a multitude of success moving the ball vertically like Philip Rivers did last week, because the Ravens' cornerbacks have little to no help over top in coverage.
The Ravens have enough quality players to figure out their defensive woes. And with the non-threatening Browns coming to town, Baltimore's issues won't be on display this Sunday. But in two weeks, the Ravens make a trip to Foxboro to take on the Patriots, who will no doubt test the resolve of Baltimore's pass defense.