Fantasy Quick-Hitters: Fitz, Marshall, and more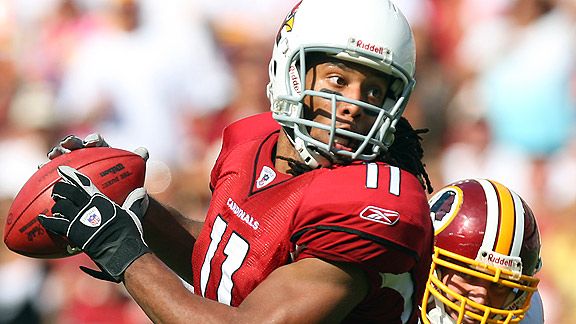 Larry Fitzgerald isn't happy with the number of balls being thrown his way. In PPR leagues, Fitz is averaging 16.3 fantasy points through two games, which isn't bad, but he's only averaging 53 yards per game, well off last season's average of 89 ypg. If he weren't catching TDs, fantasy owners might be a little panicked.
Mike Bell is likely to miss Week 3, at least according to Jay Glazer, who is usually right about such things. Pierre Thomas is coming back from his own knee sprain and was active on Sunday, so if Bell misses, he'll have a shot to post some nice numbers against Buffalo if the Saints give him his usual workload. The good news for Bell is that an MRI revealed no structural damage.
Troy Williamson is out for the year. The Jags also cut Nate Hughes, so the starting duties are left up to Torry Holt and Mike Sims-Walker (who posted some nice numbers in garbage time on Sunday). Sims-Walker is worth a pickup in most 12-team leagues. Let's just hope he can stay healthy.
HC McDaniels says that B. Marshall is a rotational player. This is not what we wanted to hear. It's not clear why McDaniels is rotating his WRs when Marshall and Eddie Royal are far and away the Broncos' two best wideouts. Royal has been getting consistent snaps, so this looks like some sort of punishment for Marshall. Not good. Fantasy owners can feel free to bench Marshall if they have a better option waiting in the wings. It looks like Marshall's days of 10-15 targets a game are long gone, at least for now.