Revisiting the Santonio Holmes Postulate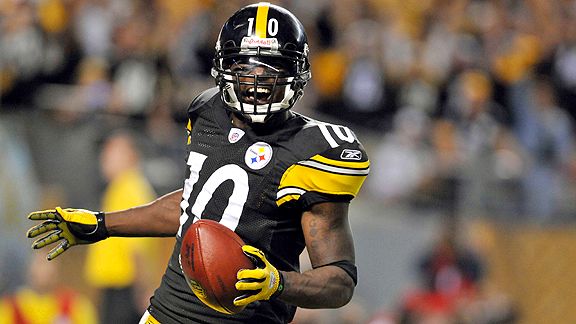 Last week, I posed a theory that Santonio Holmes puts up much better numbers when the Steelers struggle to run the ball.
Intuitively, this makes sense. The Steelers have always wanted to be a running team, and generally don't cut the passing game loose unless they're having real problems on the ground. In the 17 games over the past two-plus seasons where the Steelers have averaged fewer than 4.0 ypc, Holmes has averaged 4.3 receptions for 74 yards and 0.8 TD, which equates to 16.6 fantasy points per game. Last season, eight WRs — Andre Johnson, Larry Fitzgerald, Anquan Boldin, Brandon Marshall, Roddy White, Calvin Johnson, Antonio Bryant
and Steve Smith — had higher averages.

What does this all mean? Well, when the Steelers have trouble running (i.e. they are unable to rush for 4.0 ypc or more), then Santonio Holmes is a top 10 receiver. This happened in 17 of the Steelers' last 34 games, and 12 of those 17 games were in 2008 or 2009, so as the Steelers continue to have bigger and bigger problems running the ball, Holmes's average production should continue to rise.

It's worth noting that in games where the Steelers rushed for 4.0 ypc or more, Holmes averaged 3.7 receptions for 57 yards and 0.2 TD (or 10.5 fantasy points). These are WR30-WR35 numbers.
In Week 2, the Steelers visited the Bears, who traditionally have a good rush defense. Pittsburgh running backs gained 99 yards on 19 carries, which equates to a healthy 5.2 yards per carry. But a good portion of those yards came on one play, a Rashard Mendenhall 39-yards scamper in the middle of the third quarter. Removing that play, the Steelers rushed for just 3.3 yards per carry.
For his part, Santonio Holmes had a pretty nice day in the receiving game. He caught five passes for 83 yards, but dropped a couple of balls, including a potential TD in the endzone. Still, in PPR leagues, this is a very reasonable 13.3 fantasy points.
Though the YPC doesn't reflect it, the Steelers had a tough time running the ball on Sunday. And, once again, Holmes thrived. The Steelers play Cincinnati next week, and the Bengals have been pretty stingy against the run thus far, allowing just 3.6 ypc to opposing running backs. If the Steelers can't get the Parker-Mendenhall-Moore RBBC going in the first half, Holmes should have another good day.