Patriots have issues; Jets have new life under Ryan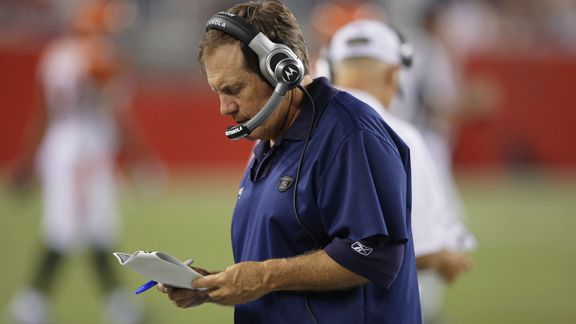 Pundits warned after the Patriots barely beat the Bills on Monday night that it's ignorant to come to conclusions after Week 1.
Well, it's only Week 2 and I've already come to this conclusion: Bill Belichick's team has issues. They're still 1-1 after their 16-9 loss to the Jets on Sunday, but New England is a Leodis McKelvin kneel-down away from being 0-2 right now.
New England's pass protection might be at the forefront of the Pats' problems. The offensive line struggled to control the penetration that New York was able to generate throughout the game and the Pats were also unable to pick up a crucial 3rd and 1 at their own 38-yard line trailing 16-9. That's a telltale sign that the horses up front for the Patriots aren't getting the job done.
New England's defense played much better this week then it did on Monday night against Buffalo, most notably against the run. That said, the Jets made a simple adjustment in the second half and were able to spread the field and find holes in the Patriots' coverage. While Belichick did a nice job mixing up his defensive fronts to confuse Mark Sanchez in the first half, he seemingly didn't have an answer for when New York spread the field and started attacking certain zones.
I know, I know, I know – it's still early. But you're fooling yourself if you think this is the same team Patriots team with Tom Brady under center as it was in 2007. Granted, Brady is still getting used to playing on his surgically repaired knee, nut New England's issues go far behind his health right now.
As for the Jets, how can you not love what Rex Ryan has done to change the attitude of this team? The Jets had lost eight straight home games against New England coming into this game and they came out and backed up Ryan and Kerry Rhodes' talk. Those two said that New York wasn't going to be intimidated by New England and it wasn't.
I've got to admit that I never expected Sanchez to look this good, this early. But he has a ton of poise and he's playing with a raw energy that has lifted his entire team. He must get better at directing his team on third downs, but so far it's hard to criticize the rookie QB after leading the Jets to a 2-0 start.
Posted in: NFL
Tags: Bill Belichick, jets game, jets score, Mark Sanchez, Mark Sanchez Jets, New York Jets, nfl scores 2009, ny jets, Patriots, patriots vs jets, pats vs jets, Rex Ryan, Tom Brady