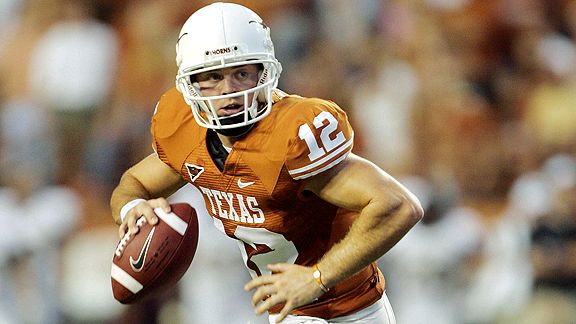 Texas has been waiting almost a year to get the taste of losing to Texas Tech out of its mouth and it did just that on Saturday night as the Longhorns defeated the Red Raiders 34-24.
This wasn't a very clean game by the No. 2 team in the nation, as Heisman candidate Colt McCoy threw two interceptions and the Texas defense was shredded by Tech quarterback Taylor Potts, who passed for 420 yards and three touchdowns. But the Longhorns did just enough to stay ahead of the Raiders for the entire game and managed to exact revenge on their in-state rivals.
The Longhorn defense also did a nice job giving Potts multiple looks in order to confuse him on several series throughout the game. Texas was also incredibly aggressive, although that allowed Potts to complete some crossing routes that helped moved the chains.
Offensively for the Longhorns, receiver Jordan Shipley had big night, hauling in 11 passes for 75 yards and returning a punt 38 yards for a touchdown to give Texas its first score. The Longhorn offense essentially took what Tech gave them and didn't try to force the action outside of when McCoy found Dan Buckner down the seams for a 25-yard completion that set up a Cody Johnson 1-yard touchdown run.
Considering Texas was an 18.5-point favorite coming into this game, one would have thought that the Longhorns would take it to Tech more than they did. But on a day where Florida only beat Lane Kiffin's Volunteers by 10 points and USC lost to Washington, I guess Texas's sound, yet rather unsatisfying 10-point win over Tech is pretty much par for the course.
Mack Brown's program will host UTEP and Colorado over its next two games before its big matchup with Oklahoma on October 17.