Fantasy Quick-Hitters: Pierre, Jamal, Santana and more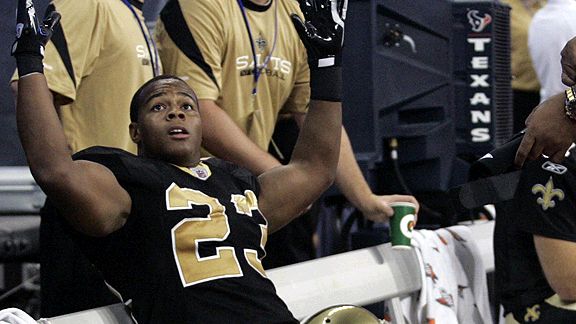 Saints beat writer Jeff Duncan speculates that Pierre Thomas's injury is worse than the team is letting on. Duncan says that HC Sean Payton comes from the Belichick school of releasing injury information to the media. If Thomas doesn't play, Mike Bell is a decent start even though the Eagles are pretty good defensively. Philly gave up 72 rushing yards to DeAngelo Williams and Jonathan Stewart, and the Saints have a much better passing attack than Carolina does. This should keep the Eagles off balance and open up some running lanes. Assuming Thomas sits, I wouldn't be surprised if Bell had 80-90 yards rushing and a TD in Week 2.
Jamal Lewis probable to start. Rookie James Davis is still questionable with a shoulder injury, so Lewis should be a serviceable start against the Broncos, who gave up 108 total yards and a TD to Cedric Benson last week.
Redskins' beat writer thinks the team will take more shots downfield in Week 2. This would be good news for Santana Moss, who is a big-play receiver. The Giants smothered him in Week 1, but he should have an easier time getting open against a sketchy Rams defense.
HC Haley wants to get the running game on track. Well, of course he does. But it's good to hear that Haley isn't ignoring the problem. The Raiders really struggled against the run last season, but played better in Week 1 against the Chargers, so we're not sure LJ is a sure bet for a good game. He's startable if you're in a pinch, however.
Matt Schaub is close to 100 percent. The Titans gave up a lot of yards through the air to Ben Roethlisberger last week, so there is a possibility that Schaub could have a bounce-back game this week. I'm not excited about his prospects, but he's not a terrible start.
HC McDaniels plans to spread the ball around. He doesn't want to name a WR1 because he doesn't want to get into the habit of forcing the ball to a guy that's double-teamed. In Week 1, Marshall led the way with seven targets, while Eddie Royal, Jabar Gaffney and Brandon Stokley had four targets apiece. Expect Marshall and Royal to lead the team in targets this season.
Posted in: Fantasy Football, News
Tags: 2009 fantasy football, Brandon Marshall fantasy, Eddie Royal fantasy, Fantasy Football, fantasy football strategy, Jamal Lewis fantasy, Jamal Lewis injury, Matt Schaub injury, Mike Bell fantasy, Pierre Thomas fantasy, Pierre Thomas injury, Santana Moss fantasy