Fantasy Quick-Hitters: Steelers' RBBC, LT2, Marshall and more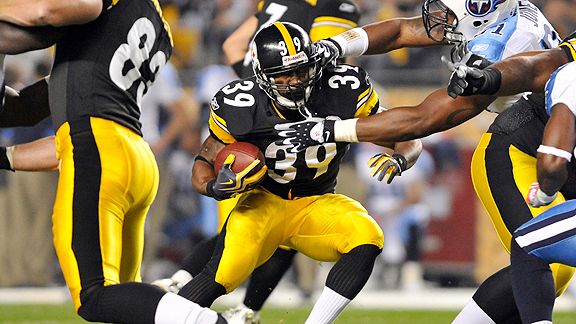 Steelers to use rotation at RB. Willie Parker will get two series and Rashard Mendenhall one until one player gets a hot hand. Mewelde Moore will be in on third downs and in no huddle situations. It was a little more than a week ago that HC Mike Tomlin said that Willie Parker was his running back. A lot can change in a week.
Vikings intent on involving Bernard Berrian more. Berrian should be a nice play this week against the Lions, but he and Brett Favre haven't had a lot of time to work together and it showed in Week 1 against the Browns.
Knowshon Moreno says he feels 100 percent. He also says that he ran tentatively against the Broncos, but should be ready to go against the Browns, who gave up a ton of yards to Adrian Peterson last week.
Matt Cassel is feeling much better. The Chiefs haven't committed to announcing him as the starter, but most of the signs point to that being the case. The Raiders are actually pretty tough against the pass, so if you can hold off on starting Cassel, do so.

LaDainian Tomlinson sits out again. Given the horrible matchup against the Ravens, it would be wise to avoid using LT2 this week. If he doesn't play and you have Darren Sproles, he could be used as a flex or as a RB2 if you're in a PPR league.
Brandon Marshall refuses to answer the media's questions. This could be a sign that Marshall's attitude isn't as good as it has seemed over the past couple of weeks and that he's headed for a meltdown. It could also be a sign that he blames the media for all the problems he's having in Denver and he's going to punish them for it. Marshall has too much talent to ignore.

T.O. wants his QB to go deep. "…Trent has to better assess what he's seeing out there and take some shots down the field. We're going to do that, and by no means was that the reason that we lost the game." That's not quite the controversial Owens that we saw in Philly and Dallas, but we'll see if it develops. The Bills should have some opportunities to go deep against the Bucs, who were torched by T.O.'s old team last week.