Fantasy Quick-Hitters: Gonzalez, LT, Pierre and more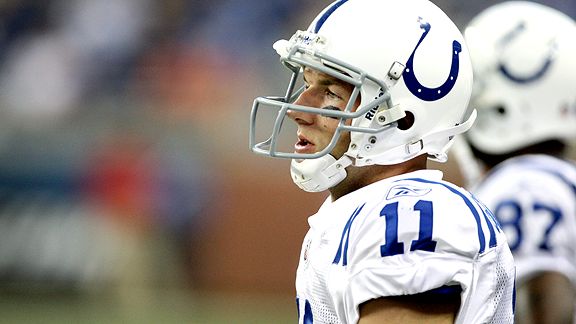 A. Gonzalez hopes to return Week 7. Well, it could have been worse. Fantasy owners who drafted Gonzalez in the 4th or 5th round expecting him to be a solid WR2 are going to have to weather the storm until he returns. Austin Collie is the Colts' WR3 and figures to see the biggest jump in targets, though Pierre Garcon could eat into those as well. Neither player did much of anything against the Jaguars on Sunday. The Colts signed Hank Baskett as well. Gonzalez's absence probably helps Dallas Clark the most since they both work the short game pretty well.

Tomlinson not practicing; ankle in a boot. This is so demoralizing for LT2 owners who drafted him in the first round expecting a bounce-back season. It is especially demoralizing for owners who didn't draft Darren Sproles in the middle rounds to back Tomlinson up. Regardless, the Chargers have a tough matchup against the Ravens this week, though if LT2 doesn't play, Sproles is a solid start in PPR leagues due to his ability to rack up catches in the passing game.
Pierre Thomas practicing, still may not play. Fantasy owners that have both Thomas and Mike Bell would like to see Thomas sit until he's healthy. Those owners who have Thomas but don't have Bell are rooting for Thomas to return ASAP. The best thing for those owners might be for Thomas to sit out another week and hope Bell struggles against a very solid Eagles defense. The Saints offense is prolific, but I don't know that it can support three starting fantasy RBs.
Jamal Lewis limited by neck injury. Don't cut James Davis yet. Davis sat out of practice with a shoulder injury, but Lewis's neck injury is pretty worrisome considering his age and mileage.

S. Smith tells Delhomme, "I never really liked you as a quarterback." Of course, the NFL has pulled the video from YouTube. Sigh.