NFL fines Jets, Mangini and Tannenbaum for Favre injury coverup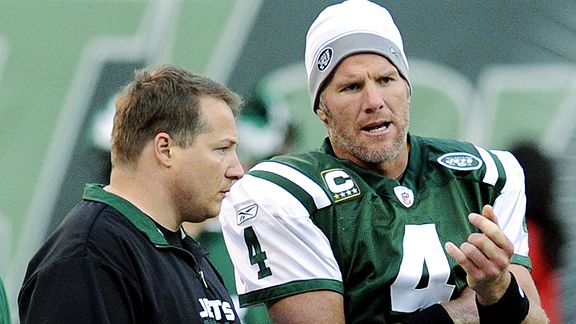 According to SI.com, the NFL has decided to fine the Jets and former head coach Eric Mangini for violating the league's rules on injury reporting. The violation is in relation to former Jets quarterback Brett Favre not being listed on the team's injury report last year, even though he was dealing with a biceps tear in his throwing arm.
The Jets failed to place Favre on the injury report during the final month of last season even though he had a torn biceps tendon.

The league announced Wednesday that it had fined the Jets $75,000, and Mangini and Jets president Mike Tannenbaum $25,000 apiece.

Mangini now coaches the Cleveland Browns.

Last week, Tannenbaum admitted the Jets should have listed Favre as "probable" on their injury reports.
I find it interesting that the NFL can fine teams for not listing players on the injury report, yet truth be told, virtually every player could be listed on the injury report every week. Is any player 100% healthy all the time? Doubtful.
That said, Favre's situation was more extreme. Even though the Jets knew he was going to play, they should have at least listed him as "probable." The Jets knew the rules and they should have followed them when it came to listing Favre's health status.