Cutler owes Bear fans more than what he showed against Packers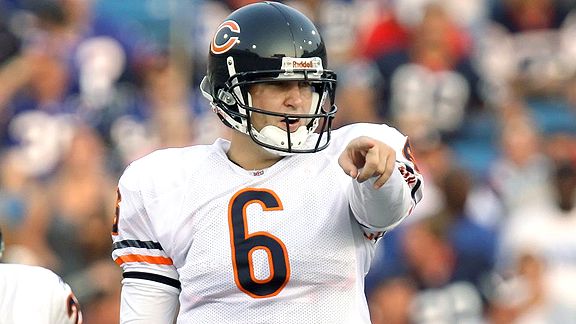 "We've got to go back and look at it. I think we're still going to be a good football team, there's no need to panic." – Bears QB Jay Cutler following Chicago's 21-15 loss to the Packers on Sunday night.
Cutler's right – there is no need to panic. For all we know, Chicago will run the table to finish 15-1 and win the Super Bowl this season.
But even still, Cutler needed to show more than he did on Sunday night in Green Bay. Bad games are going to happen, but his four-interception night was trumped by only his poor attitude during and after the game. His receivers and his pass protection certainly didn't provide him any help (a fact I'm sure isn't lost on Cutler, who doesn't mind dishing out blame), but Chicago's defense gift-wrapped a win for this team and he did everything in his power to ensure that Green Bay would walk away with a victory.
Cutler played like a rookie tonight. On multiple occasions, he threw against his body and into coverage. He had a screen pass intercepted by Johnny Jolly because he didn't show enough awareness to see that the 325-pound defensive tackle had stayed home on the play. On Tramon Williams' 62-yard interception, Cutler flat out threw the ball in the direction of a receiver, but clearly had no idea where the pass was going.
If I didn't know better, I would have sworn that Cutler had money on Green Bay tonight. And yet after the game what does he say?
"There's no need to panic."
When Florida lost to Ole Miss in Gainesville last year, Tim Tebow held a press conference in which he said that no quarterback would work harder than he would to rectify the loss. Yet after one of the worst debuts for a quarterback on a new team, Cutler smugly reminded people that it was only the first game. Not that every quarterback has to say what Tebow when he has a bad outing, but the difference in attitude between the two players are staggering and Cutler is supposed to be the experienced one.
"There's no need to panic."
Thanks, Jay. Try telling that to a Chicago fan base that immediately had thoughts of contending for a Super Bowl after their team finally acquired a franchise quarterback. Again, bad games are going to happen. But Bear fans deserved more than what they got from Cutler tonight. More passion, more desire and more poise.
As for the Packers, they need to do a better job of protecting quarterback Aaron Rodgers if they intend to compete for a division title. The Bears' front seven was constantly in Rodgers' face and never allowed him to get comfortable in the pocket. But give credit to Rodgers for withstanding the rush and throwing a 50-yard touchdown pass to Greg Jennings with under two minutes remaining. When Green Bay needed a big play at a crucial moment, Rodgers delivered.