Tressel's conservative approach once again dooms Ohio State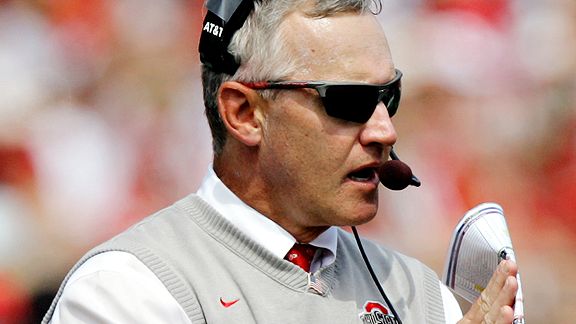 Over the last few seasons, Ohio State has gone into marquee matchups (whether it be the national championship or other wise) and the coaching staff has held back. For whatever reason, Jim Tressel succumbs to the pressure of big games and often plays not to lose.
Entering their clash Saturday night against USC in Columbus, the Buckeyes had everything to gain and nothing to lose, or at least that's how Tressel should have approached it. The Buckeyes were embarrassed last year at the Coliseum, but have a much better squad this season, especially at quarterback now that Terrelle Pryor is the full time starter.
Tressel and his coaching staff would have benefited from staying aggressive for four quarters. Instead, Tressel once again played it close to the vest (no pun intended) and the end result was an 18-15 Trojans victory and yet another loss for the Buckeyes in a game big.
Even though it was in the first quarter, one drive from this contest tonight painted a perfect picture of how Tressel game plans against opponents with equal or better talent.
With just over four minutes left in the first quarter, Ohio State marched down the field methodically, keeping the ball on the ground until Pryor completed a 34-yard pass to DeVier Posey that got the Buckeyes to the USC 2-yard line.
From there, Tressel attempted one pass (which fell incomplete), decided it was too dangerous to put the ball in the air again and then rushed Boom Herron consecutive times on 2nd and 3rd down, which resulted in a gain of just one yard. Facing a 4th and 1 from USC's goal line, Tressel opted to kick the field goal instead of trying to punch it in and take a one-touchdown lead.
It's not a horrible decision. After all, it was probably going to be a tight game throughout so it was important that the Buckeyes got some points out of the drive. Tressel didn't want to get stuffed at the goal line and have USC seize all the momentum.
But Tressel is at home against a tough opponent who is starting a freshman quarterback. If his team doesn't get into the end zone, Matt Barkley would still have had to gone under center with hundreds of screaming OSU fans at his back and against a defense that had already established a decent rush. Maybe he would have led the Trojans on a 99-yard scoring drive or maybe he would have fumbled and Ohio State could have scored. Who knows?
The bottom line is that Tressel wasn't aggressive. He wasn't aggressive with the decision on 4th and 1 and he wasn't aggressive on 2nd and 3rd down when OSU had a golden opportunity to punch it in for a score. Tressel has a dual threat quarterback at his disposal, yet instead of putting the ball in Pryor's hands, he decided that his overmatched offensive line could go one on one with USC's stout front seven and run the ball in with Herron.
Listen, Pryor didn't have a great game either. The interception he threw in the first half was telegraphed and the near-fumble in the red zone was a horrible decision. For the most part, he had decent protection tonight yet he never looked settled and couldn't get into a rhythm passing, so maybe that's why Tressel decided to play things conservatively throughout.
Then again, there's a great chance that Tressel had already made up his mind that he wasn't going to push things tonight. And once he saw that his defense was playing out of their minds, he got even more conservative. In the end, Tressel played not to lose and that's exactly what happened. Sure, if OSU would have one the decision to go for three early in the game might have been lauded instead of criticized. But OSU didn't win, so unless you're into moral victories (which is fine if you are – the Buckeyes did play a very good game, especially defensively) then Tressel needs to be criticized for the continued way he makes decisions in big games.
USC deserves its due, too. Barkley brilliantly executed the drive that led to the go-ahead score in the fourth quarter and the Trojan defense gave the offense a chance to pull out the win in the end. Pete Carroll also called the blitz that produced a sack with less than eight minutes left in the game that allowed USC to set up the game-winning touchdown drive.
Carroll was aggressive and it paid off. Maybe Tressel could learn something from the man that has never lost to a Big Ten opponent.