The curious case of Santonio Holmes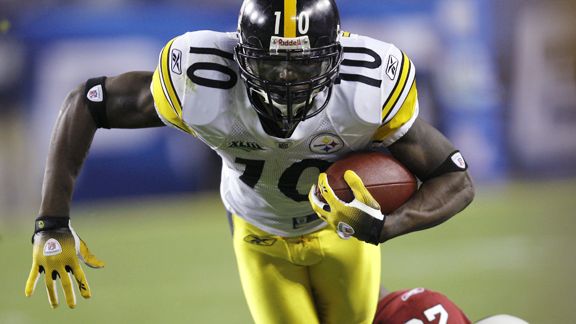 All right, a show of hands…how many of you thought that Santonio Holmes was going to start of the 2009 season with a 9-131-1 statline against the Tennessee Titans last night?
Be honest.
Holmes finished 2008 (his third season) as fantasy's WR33, averaging 3.7 catches for 55 yards and 0.3 TD in 15 games. His ADP entering the season was in the 5th round, largely because of the numbers he produced in the playoffs. After a mediocre 2-25-0 start against the Chargers, he posted 2-70-1 against the Ravens in the AFC Championship Game and 9-131-1 against the Cardinals in the Super Bowl. (You're reading that right — Holmes had the exact same line in the Super Bowl as he did last night against the Titans.)
Heading into the season, I thought Holmes was a nice value in the 6th round, or a decent pick in the 5th if I had to go WR and the other guys — Eddie Royal, Vincent Jackson, DeSean Jackson, Anthony Gonzalez and Braylon Edwards — were already gone. Holmes just seemed overrated after winning the Super Bowl MVP. After all, this is a guy who finished no better than WR29 in PPR leagues in the last two seasons, and converted just 48% of his targets into catches in 2008. (The league average last season was 57.5%.)
Holmes' production seems to be at least partly dependent on how well the Steelers are running the ball. Over the past two-plus seasons (and including last night's game), Holmes has posted 70-plus receiving yards in 13 games. In those games, the Steelers ran the ball well (4.0 ypc or greater) just three times: versus the Bengals and Rams in 2007 and again against the Bengals in 2008.
Intuitively, this makes sense. The Steelers have always wanted to be a running team, and generally don't cut the passing game loose unless they're having real problems on the ground. In the 17 games over the past two-plus seasons where the Steelers have averaged fewer than 4.0 ypc, Holmes has averaged 4.3 receptions for 74 yards and 0.8 TD, which equates to 16.6 fantasy points per game. Last season, eight WRs — Andre Johnson, Larry Fitzgerald, Anquan Boldin, Brandon Marshall, Roddy White, Calvin Johnson, Antonio Bryant and Steve Smith — had higher averages.
What does this all mean? Well, when the Steelers have trouble running (i.e. they are unable to rush for 4.0 ypc or more), then Santonio Holmes is a top 10 receiver. This happened in 17 of the Steelers' last 34 games, and 12 of those 17 games were in 2008 or 2009, so as the Steelers continue to have bigger and bigger problems running the ball, Holmes's average production should continue to rise.
It's worth noting that in games where the Steelers rushed for 4.0 ypc or more, Holmes averaged 3.7 receptions for 57 yards and 0.2 TD (or 10.5 fantasy points). These are WR30-WR35 numbers.
So if it looks like the Steelers are going to have a tough time running the ball, Holmes should be in all fantasy lineups. How will we know? The opposing defense's rank in average rushing yards allowed is a pretty good gauge. Against top 10 teams (and assuming Tennessee finishes this season in the top 10), Holmes has averaged 3.9 catches for 72 yards and 1.0 TD, or 17.1 fantasy points. Against teams ranked 11-20, he averaged 4.0 catches for 68 yards and 0.3 TD (12.8 fantasy points) — still startable in PPR leagues, but not a must-start. Against teams ranked 21-32 against the run, he averaged 4.1 receptions for 59 yards and 0.2 TD (11.4 fantasy points). In other words, he was a borderline starter at best.
If Anthony Stalter is right and the Steelers are going to have a tough time rushing the ball this year, then Holmes should be in for a big year. But if the Steelers are playing a team that can't stop the ground game, then fantasy owners might want to bench Holmes if they have an attractive option.
And if Holmes starts producing consistently against teams that can't stop the Steelers from rushing the ball, then we'll know that he's turning the corner and is becoming an elite fantasy WR. If that happens, he'll be a must-start.