Five Things to Watch: USC at Ohio State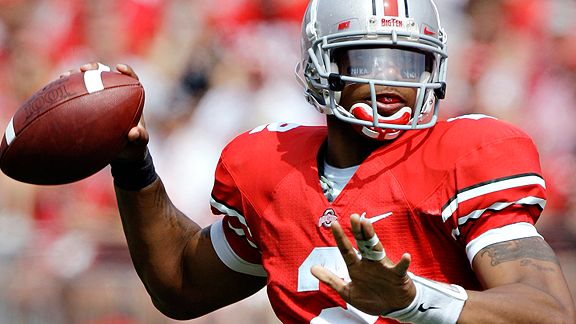 One of the most anticipated matchups of the 2009 college football season takes place Saturday night in Columbus as the Ohio State Buckeyes host the USC Trojans one year after Pete Carroll's team waxed Jim Tressel's bunch at the Coliseum. Here are five things to keep an eye on as we get closer to kickoff.
1. Which running game will take over?
This game is going to be won or lost in the trenches. Whichever team can establish its running game and wear down their opponent's defensive line will emerge unscathed. Carroll is starting a freshman quarterback (Matt Barkley) on the road and he's not going to want to put the game on his young signal caller's shoulders. Instead, he'll trust that his running game (which chewed up San Jose State for 342 yards last week), led by junior Joe McKnight (14 carries, 145 yards, 2 TDs) and one of the most experienced offensive lines in the country will open things up for Barkley in the passing game. But McKnight (who fumbled twice last week) must protect the ball, because the Trojans won't survive if they turn the ball over on the road. Defensively for the Trojans, they can expect to see a steady diet of "Boom" Herron and Brandon Saine after the duo combined to rush for 125 yards on 26 carries last week against Navy. Tressel will also get quarterback Terrelle Pryor on the move early and often in order to keep USC back on their heels.
2. The X factor for Ohio State.
Speaking of Pryor, this is a game that could help put him on the map as a passer. If the Buckeyes' running game can get into a grove and open things up for the passing game, Pryor needs to capitalize on all the hard work he put in this summer and prove that he can beat opponents with his arm. Tressel has marveled at how far his sophomore quarterback has come as a passer since his first year and now it's time for Pryor produce against a secondary that's going to challenge his resolve. Taylor Mays is one of the best safeties in the nation, so it would be wise if Pryor stayed away from the senior's side of the field. One thing Pryor shouldn't be shy about doing, however, is moving around the pocket and making things happen with his legs. If passing lanes don't start to open for him early on, moving around and creating his own lanes could be beneficial and keep the ball moving for OSU.
3. Barkley gets a taste of the big stage.
The fans at the "Horse Shoe" are going to make things a living hell for Barkley, so it'll be interesting to see how the frosh quarterback does in his first real test of his collegiate career. Barkley has a strong arm and is a gunslinger through and through, but he falls victim to believing he can complete any pass in any coverage and he's susceptible to throwing a high number of interceptions. Things can go south real quick for a young quarterback if he starts turning the ball over on the road, so Barkley needs to trust that his running game will open things up for him and he can take calculated risks only when they present themselves.
4. Can the Buckeyes' run defense rebound?
Navy gashed Ohio State for 186 rushing yards last week, so one would think that the Buckeyes are in trouble heading into a game in which their opponent just racked up 342 yards on the ground the week prior. But Navy's running game and USC's rushing attack are night and day. The Midshipmen use misdirection every play and can cause fits for opponents with their option attack. USC isn't going to do a whole lot of misdirection. They're going to line up and try to run the ball straight down their opponent's throat. Either way, the Buckeyes' front seven will once again be challenged this week and it'll be interesting to see how they respond.
5. Does Ohio State have payback on its minds?
USC absolutely took it to Ohio State last year, embarrassing the Buckeyes 35-3 on their home turf and sending a message to the rest of the nation that the Big Ten can't stack up with the rest of the top conferences. The Buckeyes definitely have something to prove, although teams can fall into the revenge trap and wind up being too aggressive. The Buckeyes still need to play their game and put last year's score behind them or else a similar, more embarrassing outcome could play out. Can Tressel keep his team focused throughout or will things start to slip away from him if the Buckeyes get down early?
No. 3 USC (1-0) at No. 8 Ohio State (1-0)
Kickoff: 8:00 p.m. ET
TV: ESPN
Point Spread: USC -7
Over/Under: 46