Fantasy Quick-Hitters: Brandon's attitude, Pierre's knee, Dallas RB split and more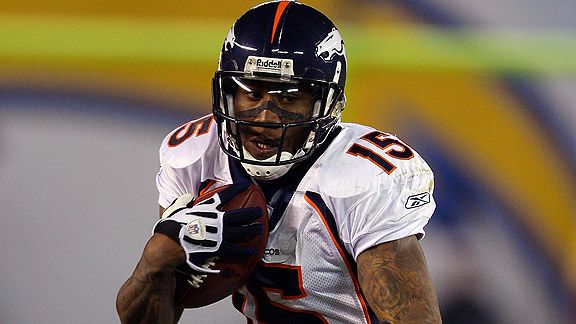 HC McDaniels says that Brandon Marshall's attitude has been "great" since returning from suspension. He went on to say that Marshall could "absolutely" contribute in Week 1. Marshall's stock is still a little shaky, but this is exactly what his owners were looking for coming out of last week's suspension. He's a solid start against a traditionally bad Cincy defense.
Pierre Thomas misses Wednesday practice, likely out for Week 1. I wrote about this yesterday and suggested that owners pick up Mike Bell to start against the Lions on Sunday. It's a great matchup and Bell proved in Denver that he is more than capable of posting good numbers.
HC Phillips sees a "split" in workload between Marion Barber and Felix Jones. Clearly, this eats into Barber's stock somewhat. I'm sure owners weren't expecting a 50/50 split when they drafted Barber in the 2nd or 3rd round. He can still be a solid RB2 or even a RB1 if he's able to find the endzone like he did in 2006 and 2007. If this split actually happens, Jones will be a nice value for those owners who pulled the trigger in the middle rounds.
Kevin Walter looks iffy for Sunday. Walter was quietly productive last season and is a solid start in most PPR formats. If he's out, Andre Davis would become a sneaky good start in his stead.
TB to utilize three-headed monster at RB. Cadillac Williams moved up the depth chart to become the Bucs' RB1, but most are expecting a fairly even split between Williams, Derrick Ward and Earnest Graham. HC Raheem Morris previously discussed a 2-2-1 split. Ward is by far the best pass catcher of the three, so I'd expect him to be in on most third downs. Graham and Williams are similar players, so one will likely get the short end of the stick.
Knowshon Moreno declares himself ready for Week 1. This doesn't exactly jive with what HC McDaniels has been saying, so keep an eye on this story as the week continues to progress. If he can go, Moreno would be a solid RB2/flex start against a suspect Bengals defense.
Tim Hightower is still the starter for the Cardinals. Chris Wells has impressed of late, so expect a split, though Hightower's value is enhanced in PPR leagues since he's a pretty good receiver out of the backfield. With the 49ers coming to town, Hightower isn't a bad flex start this week.