Looking for QB help? Call on Shaun Hill.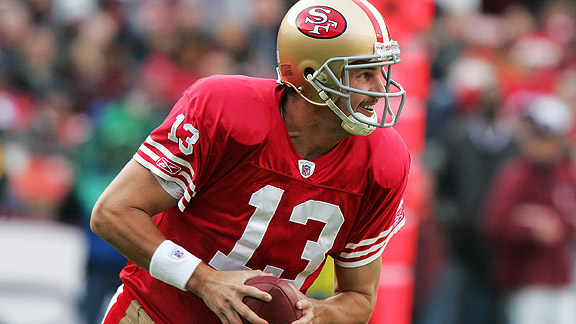 Shaun Hill recently beat out Alex Smith for the starting QB gig in San Francisco, but his Average Draft Position (ADP) hasn't risen all that much. He's still available in roughly 85% of ESPN's fantasy leagues, and is a nice pickup for fantasy owners looking to bolster their QB position.
Last season, he took over a 2-6 team in Week 10, and averaged 234 passing yards, 1.5 pass TD and 0.3 rush TD over the last eight games of the season. Subtracting interceptions (1.0 per game), this works out to about 19.1 fantasy points per game. Had Hill averaged these numbers over the course of an entire season, he would have finished as last year's QB6, ahead of Peyton Manning and Donovan McNabb. Moreover, he led the 49ers to a 5-3 record down the stretch, so he has proven that he can win games.
Amongst all NFL QBs, Hill also projects to face the 8th-easiest schedule. Obviously, projections are just projections, but all else being equal, I'd rather have a guy with a schedule that looks favorable. The 49ers are also likely to be trailing for much of the season, which will make it difficult for the team to follow through with its planned 60/40 run/pass split.
Hill doesn't have a lot of weapons in the passing game, but the situation is pretty much unchanged from last season, so that isn't a huge concern. If Vernon Davis ever taps into his significant potential and/or Michael Crabtree signs and learns the offense, it could be make Hill's job a lot easier.
Hill is an undrafted 29-year-old journeyman, so he isn't going to set the world on fire. I wouldn't expect Top 10 numbers, though his performance last season would indicate that he's capable of posting that kind of production. He's one of those QBs who plays for a pretty bad team that should be trailing much of the time. If he can stay healthy, this could result in fantasy gold.
Grab him as a fantasy backup, especially if you have a QB that has a bye during one of Hill's favorable matchups (McNabb, Warner, Ryan, Rivers, Brees, Rodgers and Cutler). He's also a great guy to look for as part of a QBBC, specifically when used with Matt Cassel, David Garrard and Eli Manning. Throughout the preseason, he has been readily available in the 12th round of most fantasy drafts, and has actually gone undrafted in many leagues.