Oregon suspends Blount for entire season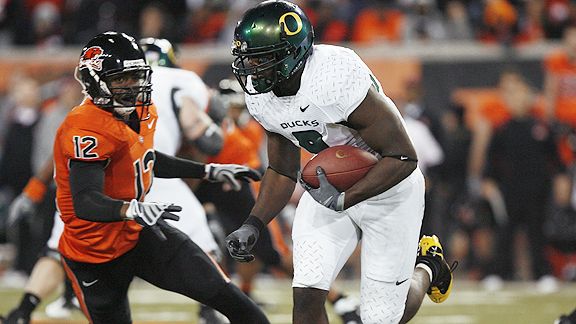 The Oregon football program has suspended running back LeGarrette Blount for the remainder of the 2009 season after punching Boise State linebacker Byron Hout after the Ducks' loss to the Broncos on Friday night. Blount also had to be restrained from going after fans as he walked off the field.
Blount's suspension includes any bowl games. Coach Chip Kelly said he will remain on scholarship.

After the game, a contrite Blount came out of the locker room.

"I should have handled that situation a lot better than I did," he said. "I apologize. We will never have a game like this again. … The game, as it went on, just got more frustrating and more frustrating for me in general. I shouldn't have said anything. I shouldn't have done anything."

Blount's offseason also came with missteps when, according to The Oregonian, he was suspended by first-year Ducks coach Chip Kelly for poor attendance at team meetings and workouts.

Oregon and Boise State also met last year in Eugene, Ore., a 37-32 victory for Boise State. In that game, the Broncos committed two late hits that received much attention since, and last month Blount told Sports Illustrated that the Ducks owed the Broncos an "ass-whuppin'."
It's football – frustrations boil over, especially when a supposedly good team like Oregon plays as flat as they did last night. But Blount's actions were completely ridiculous and it's good to see that Oregon didn't just slap him on the wrist. His suspension is appropriate, because he certainly doesn't deserve the right to play football right now.
I don't know what was said, but Hout was clearly taunting Blount and hopefully he learns from this incident too. Even though Hout won't face any discipline, chances are that Boise head coach Chris Petersen won't let his young linebacker escape without some form of punishment.
Posted in: College Football
Tags: blount punch, Boise State, Boise State Broncos, Boise State-Oregon, brian leonard, lagarrette blount, lagarrette blount punch, lagarrette blount suspended, LeGarrette Blount, legarrette blount punch, legarrette blount suspended, legarrette blount suspension, legarrette blount youtube, Oregon, Oregon Ducks