Lee to sign one-year deal next week?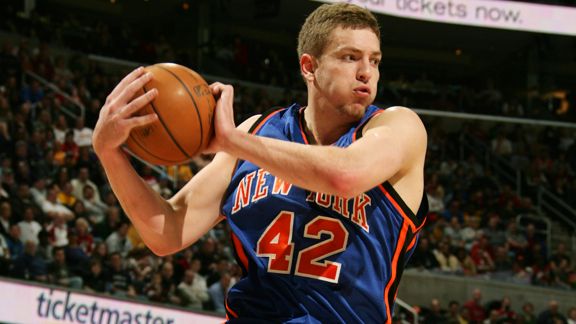 Yes, according to ESPN's sources.
Knicks president Donnie Walsh said he doesn't think a Lee sign-and-trade is possible. Even though the Knicks like Lee, Walsh said he is not interested in signing the forward to a long-term contract at this point; he wants to maintain as much payroll flexibility as possible for next summer, when LeBron James, Chris Bosh and other prominent players will be free agents.

"We can't get a deal" for Lee, Walsh said.

Contract discussions are expected to heat up next week. Many league officials think the deal will fall in the $6 million-to-$8 million range, but the two sides will exchange more concrete numbers soon. Lee could be rewarded more generously since it will be just a one-year contract.
When Walsh says that he "can't get a deal" for Lee, he means that he can't get a deal that either 1) brings them a player they covet, like Chris Bosh or Amare Stoudemire, or 2) brings them an asset of value (a first round draft pick, a young cheap player) while still allowing for financial flexibility next summer, when they hope to make a run at LeBron James and/or Dwyane Wade.
This is a nice move by the Knicks, who will reward Lee for his performance thus far while at the same time reserving the right to trade him during the season if a deal comes along that they like. He'll become an unrestricted free agent next summer, and the Knicks could bring him back or he could sign elsewhere.