2009 NFL Preview: #25 Denver Broncos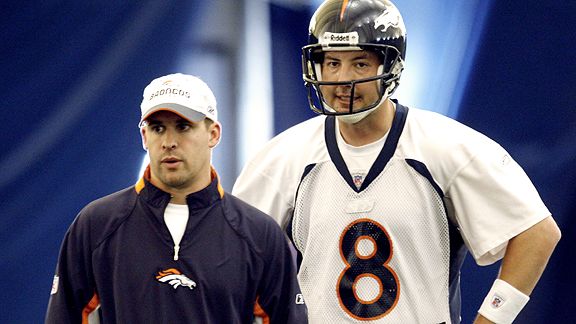 Check out all of our 2009 NFL team previews.
Offseason Additions: Kyle Orton (QB); Brian Dawkins (S); Andre' Goodman (CB); Renaldo Hill (S); Jabar Gaffney (WR); LaMont Jordan (RB); Correll Buckhalter (RB); Andra Davis (LB); Chris Simms (QB); J.J. Arrington (RB); Brandon Llyod (WR); Ronald Fields (DT); Nick Greisen (LB).
Offseason Losses: Jay Cutler (QB); Dre' Bly (CB); Erik Pears (RB); Michael Pittman (RB); Nate Webster (LB); Jamie Winborn (LB); Ebenezer Ekuban (DE); Darrell Jackson (WR); Dewayne Robertson (DT); Patrick Ramsey (QB).
Player to Watch: Knowshown Moreno, RB.
Moreno will excel as a pass catcher in Josh McDaniels' offense and should find plenty of running room behind the Broncos' solid offensive line. He has outstanding vision and has picked up the art of pass-blocking. Although he's been limited the past few weeks after suffering a MCL sprain in Denver's preseason opener, Moreno is on track to play in Week 1. As long as he stays healthy, he could emerge as the Broncos' every down back.
Team Strength: Led by tackles Ryan Clady and Ryan Harris, the Broncos have one of the best offensive lines in football. As a rookie, Clady demonstrated outstanding run-blocking skills and strength at the point of attack. Harris isn't as athletically gifted as Clady, but he surrendered just 2.5 sacks last year and has excellent technique. Center Casey Wiegmann and guards Ben Hamilton and Chris Kuper are solid pass-blockers, although they could struggle with run-blocking as the team transitions out of the old zone-blocking scheme.
Potential Weakness: The Broncos' defensive line is a major question mark heading into the season. Nose tackle Ronald Fields is a 315-pound space eater, but usually doesn't command double teams while his backup, Marcus Thomas, hasn't developed proper technique yet to be effective. Denver's defensive ends have a combined total of just one NFL start between them. Ryan McBean has good size (6'5, 290 pounds) and athleticism, but he often gets manhandled by opposing offensive linemen. Kenny Peterson is expected to start on the other side, even though he has failed to live up to expectations so far.
Outlook: While the Broncos certainly have talent, they're also one of the more dysfunctional teams entering the season. Can McDaniels work out his issues with disgruntled receiver Brandon Marshall? Or will the team wind up trading him like they did Jay Cutler? If Denver retains Marshall, will he play hard or be a distraction? Can Kyle Orton fill Cutler's shoes and run McDaniels' potentially high-powered offense? The Broncos have an outstanding O-line and a couple of nice young weapons in Moreno and second-year receiver Eddie Royal. But everything revolves around Orton, who is limited and would benefit greatly if Marshall was a part of the offense. Defensively, the line is a major question mark, as is outside linebacker with former end Elvis Dumervil is playing a new position and career special teamer Mario Haggan will become a first time starter. Fortunately, rookie Robert Ayers should develop into a quality pass rusher and is versatile enough to play OLB and DE. D.J. Williams is a quality inside linebacker, but Andra Davis is average and best and both will need help from an inept D-line in order to be productive. The secondary is outstanding, with shutdown corner Champ Bailey being joined by future Hall of Famer Brian Dawkins, the underrated Andre Goodman, the dependable Renaldo Hill and the intriguing youngster Alphonso Smith.
If Marshall gets his act together and Orton overachieves, the Broncos certainly have enough talent to compete in a dismal (save for the Chargers) AFC West. But McDaniels has gotten off to a rocky start in Denver and his players are going to have to buy into his system.
2009 Prediction: 2nd, AFC West.