How to ride Marshawn Lynch to a fantasy championship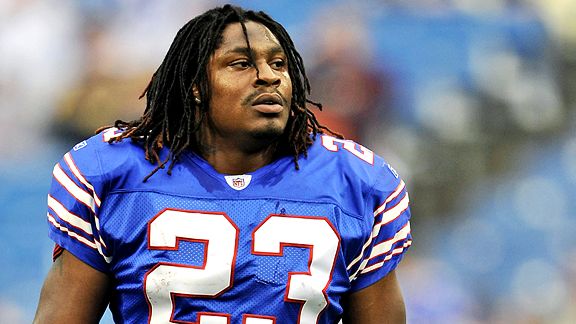 I'm playing in nine or ten leagues this year, and one thing I'm noticing as I get deeper and deeper into my drafts is that Marshawn Lynch is consistently undervalued this preseason.
Here's what I wrote as part of our fantasy preview:
Marshawn Lynch, Bills (4.08)
Lynch's ADP is depressed because he's going to miss the first three games due to suspension. Last year, we saw two players – Steve Smith and Brandon Marshall – tear it up after returning from suspension, and they were both big values on draft day. If you can combine Lynch in the late 3rd or early 4th and his backup, Fred Jackson, in the 8th or 9th, you're essentially getting a borderline first round RB, which will pay dividends throughout the season. Plus, the Terrell Owens acquisition should take the pressure off the running game and open things up a little for Lynch and Jackson, even though the loss of Jason Peters (one of the league's best left tackles) may offset this advantage.
Then I had to choose amongst Lynch, Ryan Grant and Reggie Bush in Round 4 of my Industry Insiders Draft…
Of the three, Bush is the most productive on a per game basis in PPR leagues, but he has missed 10 games over the past two seasons and just isn't as dependable as the other two guys. I ran the numbers for Grant and Lynch, and Grant has averaged 14.1 ppg since he became the starter in Green Bay while Lynch has averaged 15.1 ppg in his two seasons in the league. Lynch is more involved in the Buffalo passing game, so that helps his overall numbers.

Then there's the whole three-game suspension thingy, which is the reason that Lynch is available in the fourth round in the first place. Otherwise, he'd likely be a late first round or early second round pick. Last year, we saw two players — Steve Smith and Brandon Marshall — see their stock fall in the preseason due to suspension and proceed to light it up once they returned. Marshall finished as WR4 after missing the first game and Smith finished as WR10 after missing the first two.

I took a closer look at the schedules of Grant and Lynch and found that Lynch had a distinct advantage over the last 13 games. In fact, Lynch projects to face the second easiest schedule of any running back over that span. This, combined with Grant's struggles last season and Lynch's overall superior productivity, convinced me to draft the Buffalo RB at 4.05. Sure, I'll have to burn a middle round pick on Lynch's backup (Fred Jackson), but I think it's worth it to lock up Lynch after his suspension is over.
I also won Lynch in a slow auction league, where he went for a very reasonable price of $30 when guys like Grant, Bush and Darren McFadden all went for $49+. Bush and McFadden are injury concerns and Lynch has produced more consistently than Grant has (though I do like these other players).
Obviously, the three-game suspension is a little off putting to some owners, but they're being shortsighted. Sure, he's going to miss a quarter of the fantasy regular season and a fifth of the full fantasy season, but for the price of a 4th or 5th rounder, you can get a RB that will produce at a late-first/early-second round level. The first three weeks of the year might be a little precarious, but it's before the byes start, so if owners have an option of a flex position or if they manage to draft Jackson, then they should be just fine.
There was some talk about Fred Jackson possibly stealing the job during the suspension, but Lynch took the majority of first team snaps throughout the preseason, so I don't think there's much to worry about on that front.
Once Lynch returns to face a very easy schedule, his owners will have a distinct advantage for the rest of the season and into the playoffs.