2009 CFB Preview: Florida Gators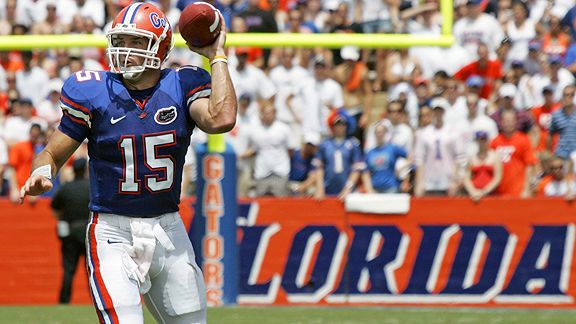 Check out our other 2009 college football previews.
Preseason Ranking: No. 1 in AP Top 25; No. 1 in USA Today Poll.
Key Returning Players: Tim Tebow (QB); Chris Rainey (RB); Riley Cooper (WR); Deonte Thompson (WR); Aaron Hernandez (TE); Maurkice Pouncey (C); Brandon Spikes (LB); A.J. Jones (LB); Ryan Stamper (RB); Carlos Dunlap (DE); Jermaine Cunningham (DE); Justin Trattou (DE); Ahmad Black (S); Joe Haden (CB); Janoris Jenkins (CB); Lawrence Marsh (DT); Terron Sanders (DT); Major Wright (S).
Key Losses: Percy Harvin (WR); Phil Trautwein (OT); Jason Watkins (OT); Louis Murphy (WR).
Player to Watch: Tim Tebow, QB.
With all due respect to Oklahoma's Sam Bradford and Texas's Colt McCoy, Tebow is arguably the best player in college football. Not the best quarterback – the best player, period. Urban Meyer says that Florida will incorporate the no-huddle into their offense this season, which should only play into Tebow's strengths, as he can beat opponents with either his arm or his legs. After throwing for 2,746 yards, rushing for 673 yards and totaling 42 touchdowns, Tebow returns for his senior season in hopes of leading Florida to its third national title in the last four seasons. And after compiling one of the most impressive second halves of any player in college football last year, there might not be anything that stands in Tebow's (and Florida's) way this season.
Team Strength: Tebow will get most of the attention, but the defense remains the strength of this team. The unit returns all 11 starters, including stud linebacker Brandon Spikes, who decided to return for his senior season. The Gators finished fourth in the nation last year in scoring defense and ninth in total defense and there's no reason to believe that they'll take a step back in '09. After Spikes, the unit is anchored by 6-foot-6, 290-pound defensive end Carlos Dunlap, who is a freakish athlete and immensely talented. He led the SEC in sacks last year with 9.5 and lifts the play of fellow defensive end Jermaine Cunningham. Throw in a highly talented, experienced secondary comprised of Ahmad Black, Joe Haden, Janoris Jenkins and Major Wright, and the Gators will once again have one of the best defenses in all of college football this season.
Potential Weakness: Weaknesses? Good luck finding any glaring question marks, although the offensive line did lose both starting tackles with the departures of Phil Trautwein and Jason Watkins, as well as playmaker Percy Harvin and the productive Louis Murphy. That said, Riley Cooper and Deonte Thompson are waiting in the wings to replace Harvin and Murphy and Florida always retools the offensive line. Still, if you were looking for a potential weakness on this Florida team, it would be at tackle. The Gators hope offensive lineman turned defensive lineman turned back to offensive lineman Matt Patchan can help fill one of the voids at tackle.
Outlook: The offensive line is a bit of a question mark, but shouldn't slow the Gators down this season. This is arguably the most complete team in college football and with Tebow back under center, Florida is going to be incredibly tough to keep out of the end zone. Defensively, Spikes and Dunlap are enforcers and the Gator defense can match up with any offense in the nation. The schedule is also favorable, with LSU, Georgia and Florida State providing the toughest challenges. (Florida won't have to play Ole' Miss this year, unless they meet the Rebels in the SEC Championship.)
Urban Meyer's team is set up to win a national championship. Could they get tripped up again like they did at home last year against Ole' Miss? Certainly – anything could happen in college football. But the Gators are unquestionably the best team in the nation entering the season and anything less than a national title appearance would be a disappointment for Tebow and company.