Players claim Rodriguez, Michigan violate NCAA rules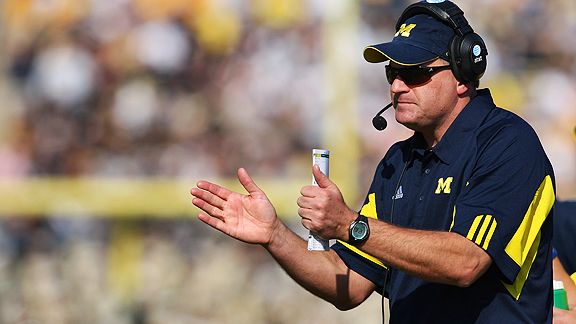 Several players on the Michigan football team claim that head coach Rich Rodriguez and the rest of the program regularly violates NCAA rules limiting how much time they can spend in training and practice sessions.
One former player who started for Michigan last season told ESPN Saturday night that the report was accurate.

The player, who asked not to be identified for fear of repercussions from fans, said in-season Sundays at the football facility lasted from 10 a.m. to 10 p.m., including a one-hour lunch. That would be an 11-hour day. The NCAA daily limit is four hours, the weekly limit 20.

The same player said required offseason workouts included three-hour lifts on Mondays, Wednesdays and Fridays and two hours of speed and agility on Tuesdays and Thursday. That's a total of 13 hours; the NCAA limit is eight hours of required workouts.

This player said he would tell the Big Ten or NCAA what players were required to do and believes most of his former teammates would, as well.

A current member of the Michigan football team, who has started, also told ESPN his in-season Sundays at the football facility lasted from 10 a.m. to 9:30 p.m., although he acknowledged the first two hours were spent in treatment, which is not counted against the restricted hours.
As expected, Rodriguez and the program are denying these allegations and have said that no rules have been violated. It's unclear at this point if Michigan has a serious problem on its hands or if a couple of players are just trying to make things difficult for Rodriguez.
It stands to reason that most teams in college football violate NCAA regulations on a yearly basis. That said, it's highly doubtful that they're exceeding regulation times by over six hours like the report claims Michigan has. If these allegations are true, this is yet another black eye on Rich Rod's short tenure at UM and will certainly hurt recruiting if the NCAA can somehow prove that the program is in violation.
What's interesting is that even with all of those practices last year, Michigan suffered its worst season in the history of the program. Nice work, Rich.