2009 CFB Preview: Oklahoma Sooners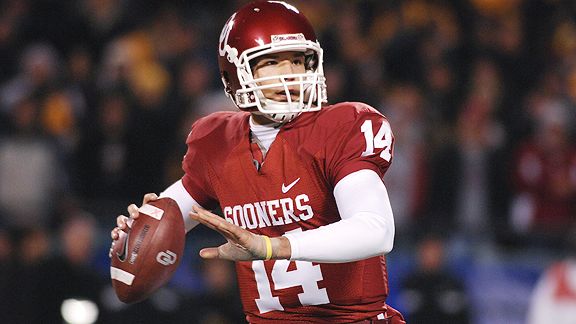 Check out our other 2009 college football previews.
Preseason Ranking: No. 3 in AP Top 25; No. 3 in USA Today Poll.
Key Returning Players: Sam Bradford (QB); Chris Brown (RB); DeMarco Murray (RB); Jermaine Gresham (TE); Ryan Broyes (WR); Trent Williams (OT); Travis Lewis (LB); Keenan Clayton (LB); Ryan Reynolds (LB); Jeremy Beal (DE); Auston English (DE); Gerald McCoy (DT); Adrian Taylor (DT); Dominique Franks (LB); Brian Jackson (CB).
Key Losses: Phil Loadholt (OT); Duke Robinson (G); Brandon Walker (G); Jon Cooper (C); Nic Harris (S); Lendy Holmes (S); Juaquin Iglesias (WR); Manuel Johnson (WR).
Player to Watch: Sam Bradford, QB.
While defensive tackle Gerald McCoy and tight end Jermaine Gresham certainly deserve mention, listing any other Sooner besides Bradford in this section would be a crime to the college football world. He's the key to whether or not Oklahoma will make a repeat appearance in the title game and whether or not the Sooners will inevitably be crowned champions. Many, including his head coach Bob Stoops, believe that the 2008 Heisman winner will be even better this year than he was last season. Considering Bradford threw for 4,720 yards and 50 touchdowns last season, that's a scary thought for the Big 12.
Team Strength: The Sooners' backfield is absolutely loaded again this year, from reigning Heisman winner Bradford under center, to playmaking backs Chris Brown and DeMarco Murray, who each totaled over 1,000 yards on the ground last season. Oklahoma finished third behind only Tulsa and Houston in total offense last season while averaging 547.86 yards per game and racking up 99 total touchdowns. The offensive line is a major question mark this season, but OU will once again have an explosive backfield.
Potential Weakness: The good news for the Sooners is that Bradford, Gresham, Brown and Murray are all back. The bad news is that offensive linemen Phil Loadholt, Duke Robinson, Brandon Walker and Jon Cooper are not. Losing that much talent on the offensive line could be crippling to an offense that was among the nation's best last season. Stoops will take comfort in the fact that tackle Trent Williams is back and OU always recruits well along the offensive line. But a team doesn't replace four of its five starters on its O-line without suffering some kind of a setback.
Outlook: While the offense gets most of the attention (and deservedly so), the Sooner defense should be very good this year. Losing safeties Nic Harris and Lendry Holmes certainly hurts, but outside of those players, Oklahoma returns its entire defense. The Sooners love to keep the opposition on its heels and considering linemen McCoy, Jeremy Beal and Auston English are all back, the Sooners should rack up plenty of sacks this season. The linebacker trio of Travis Lewis, Keenan Clayton and Ryan Reynolds is back as well, so the front seven will be solid. Ironically, most of the question marks come on the offensive side of the ball. The offensive line has to replace four starters and Bradford lost his top two deep threats from a year ago in Juaquin Iglesias and Manuel Johnson. But as long as Bradford stays healthy and the line gels, the Sooners aren't going to have any problems putting points on the board again this year. And with the defense expected to improve, OU is going to be in title contention all season.
But outside of the questions along the offensive line, the key to Oklahoma's success this year rests on whether or not the Sooners can step up against the cream of the crop. Last season, they were beaten by Texas and then Florida in the national title game. The Sooners have great overall talent on both sides of the ball, but can they step up and win the big one?
Posted in: College Football
Tags: 2009 College Football predictions, 2009 College Football Preview, 2009 College Football rankings, Auston English, Chris Brown, college football predictions 2009, College Football Preview 2009, College Football Rankings 2009, DeMarco Murray, Gerald McCoy, Jeremy Beal, Jermaine Gresham, Keenan Clayton, Oklahoma, Oklahoma Sooners, Ryan Reynolds, Sam Bradford, Travis Lewis, Trent Williams