Marshall admits to "error in judgment" regarding actions at recent practice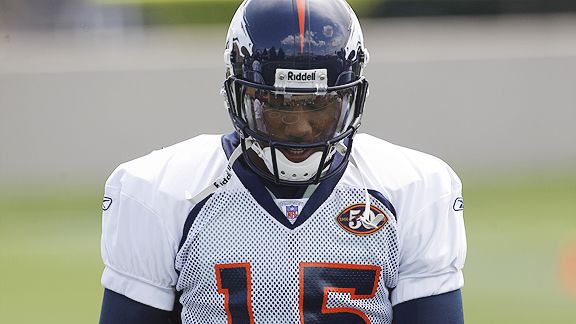 After a tumultuous offseason in which he's demanded a new contract or for the Broncos to trade him, receiver Brandon Marshall has seemingly reached his boiling point.
During a recent practice, Marshall exuded frustration by punting balls after catching them (instead of handing them to the ball boy) and swatting away a pass that was thrown to him. But he now admits that his actions were an "error in judgment" on his part.
In the video aired by KMGH-TV from Wednesday's portion of practice that was open to the media, Marshall was shown walking when the rest of the team was running during warmups, insolently punting the ball away instead of handing it to a ball boy and swatting away a pass that was thrown to him.

Marshall said some of the video, which included a shot of him sitting on his pads before practice, was taken out of context. But he acknowledged his frustration boiled over and that it was an error in judgment to act as he did, especially when he punted the ball.

"I think everybody knows there's a lot of stuff built up there, and me handling it that way wasn't good," Marshall said during the ESPN phone interview. "I think if I could do it again I definitely wouldn't punt the ball."

Marshall said he wasn't trying to force his way out of town — he asked for a trade this summer after the Broncos declined to rework a contract which will pay him $2.2 million this season.

"I'm not out there trying to be a distraction to the team," Marshall said. "Unfortunately, yesterday I kind of let my frustration get the best of me."
I went into more detail yesterday about Marshall's situation in Denver, which you can read here. But the bottom line is that he needs to look up the word professionalism and then apply it to his career.
He's not doing himself any favors by acting like a child while at practice. In fact, he's only getting further and further away from what he truly wants (whether that's a new contract, to be traded or both).