How five marquee players are assimilating with new teams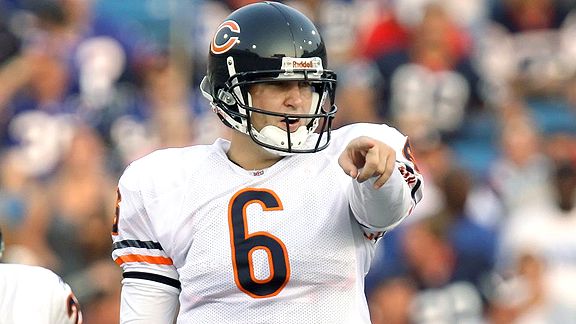 For SportingNews.com, Mike Fiorio examines how five big-name players are faring with their new teams.
Jay Cutler

The Chicago Bears made a bold move earlier this year when they uncharacteristically uncorked multiple draft picks and a player for a guy not already on the team.

In so doing, they landed the best quarterback they've had in decades.

So far, Cutler has been a mixed bag. Rumblings of problems with linebacker Brian Urlacher didn't help to create the right warm and/or fuzzy atmosphere. Then Cutler registered an abysmal 30.8 passer rating in the team's first preseason game at Buffalo, completing five of ten passes with an interception.

Last week was far more encouraging, with Cutler connecting on eight of 13 attempts for 121 yards, a touchdown, and a passer rating of 117.8 against the Giants.

But the real question of whether Cutler is properly getting himself ready to be the Bears' franchise quarterback will best be answered when he returns to Denver on Sunday night for a game against the team for which he was supposed to be the franchise quarterback deep into the next decade.
In addition to Cutler, Florio discusses Matt Cassel, T.J. Houshmandzadeh, Terrell Owens and Albert Haynesworth.
Posted in: Fantasy Football, NFL
Tags: Albert Haynesworth, Fantasy Football, Fantasy football draft strategy, fantasy football strategy, Jay Cutler, Jay Cutler fantasy, Matt Cassel, Matt Cassel fantasy, T.J. Houshmandzadeh, T.J. Houshmandzadeh fantasy, Terrell Owens, Terrell Owens fantasy