Broncos suspend Brandon Marshall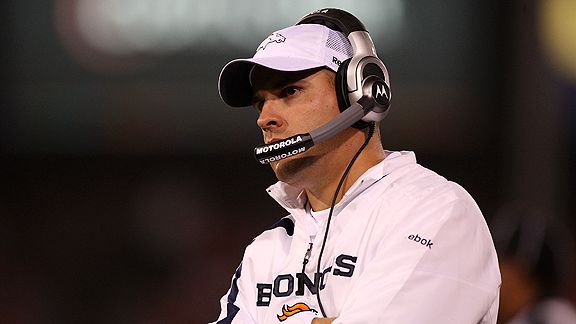 ESPN's Ed Werder is reporting that Broncos head coach Josh McDaniels has informed disgruntled receiver Brandon Marshall that he has been suspended.
Here's some of the highlights from Werder's report on ESPN's "First Take" on Friday morning:
– The suspension stems from Marshall's antics at a practice on Wednesday morning in which he punted balls after catching them (instead of handing them to ball boys), swatting away a pass that was thrown to him and for general insubordination.
– Werder presumes that Marshall has been suspended without pay, but the length of the suspension has yet to be confirmed.
– Werder doesn't believe that this suspension will amp up trade talks, as the Broncos will have trouble getting fair compensation for Marshall's talent. Denver reportedly is seeking a first and a fourth round draft pick.
I don't know how Marshall will respond to this suspension, but if he were smart, he'd take the opportunity to wipe the slate clean. He's not going to get what he wants from the Broncos (or any other team for that matter) if he continues to act in the manner he has. Call me crazy, but teams generally don't like it when players have multiple off-field issues, bitch about their contract, admit to not learning the playbook and then are insubordinate in practice.
If he wants to butt heads with McDaniels or the Broncos, Marshall is going to continue to have these problems. If he owns up to his actions, then maybe the two sides can come to some kind of resolution. But just like a kid who stomps his feet and draws on the walls in an effort to get what he wants, Marshall is going to find getting that new contract a bit difficult if he continues on the path he's on.
This is getting ugly. Obviously, this kind of news will continue to depress Marshall's stock. He's regularly available in the 4th round of fantasy drafts, and as this news permeates the public, I wouldn't be surprised if it dropped even further. Likewise, this is going to hurt Kyle Orton's stock, as he would benefit from having as many options as possible in the passing game.
Conversely, Eddie Royal's stock has been on a slow and steady march upwards ever since Marshall's injury and attitude became public. He's been going in the early 5th in 12-team leagues, and I wouldn't be surprised if he eventually overtakes Marshall in the next couple of weeks. Tony Scheffler, Jabar Gaffney and Brandon Stokley will also be helped by Marshall's potential absence.
If the Marshall and the team can't put this behind them, then the Broncos needs to move Marshall to rid themselves of the headache. Maybe they aren't going to get a pick commensurate to his talent, but that's not his true value. Teams trading for Marshall can see how he's acting and his personality and work ethic have to be taken into account.