2009 CFB Preview: Virginia Tech Hokies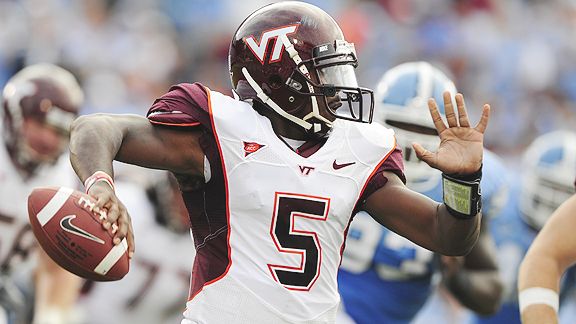 Check out our other 2009 college football previews.
Preseason Ranking: No. 7 in AP Top 25; No. 7 in USA Today Poll.
Key Returning Players: Tyrod Taylor (QB); Darren Evans (RB); Jarrett Boykin (WR); Danny Coale (WR); Greg Boone (TE); Blake DeChristopher (OT); Ed Wang (OT); Sergio Render (G); Cody Grimm (LB); Cam Martin (LB); Jason Worilds (DE); John Graves (DT); Cordarrow Thompson (DT); Stephan Virgil (CB); Kam Chancellor (S); Dorian Porch (S).
Key Losses: Victor "Macho" Harris (CB); Orion Martin (DE); Purnell Sturdivant (LB); Brett Warren (LB); Dustin Keys (K); Nick Marshman (G); Ryan Shuman (C).
Player to Watch: Tyrod Taylor, QB.
Darren Evans' name would have been listed here, but the running back tore his ACL in practice and will miss the entire 2009 season. That said, it's just as easy to wax poetically about Taylor's potential, as it would have been Evans'. In his third season as VA Tech's signal caller, Taylor (and his coaching staff) wants to be a complete quarterback. In his final couple of games last year, things seemed to have clicked for Taylor, who doesn't have to worry about splitting time with Sean Glennon this season. Taylor is a dual-threat and if he can take the next step as a passer, the Hokies will compete for a national title.
Team Strength: While VA Tech will certainly miss cornerback Victor "Macho" Harris this season, the Hokies' secondary will be solid. Stephan Virgil picked off six passes last season and has emerged has an outstanding defender. Throw in seniors Kam Chancellor and Dorian Porch and the Hokies' defensive backfield is loaded with experience and playmaking ability.
Potential Weakness: Outside of Taylor needing to prove that he can take the next step as a passer and be consistent, the biggest challenge VA Tech faces this year is whether or not their backfield can stay healthy. Evans has already been lost for the year, while Josh Oglesby (strained hamstring and infected foot), David Wilson (sprained shoulder) and Ryan Williams (sprained ankle) have all suffered injuries in practice. Teams can't do anything about injuries or bad luck, but it remains to be seen whether or not the Hokies' backs can stay healthy and produce.
Outlook: Just like most teams in college football, Virginia Tech enters the 2009 season with several unanswered questions. The defense lost a ton of talent with the departures of Harris, Purnell Sturdivant, Brett Warren and Orion Martin, while the offense will have to deal with the positions vacated by Ryan Shuman and Nick Marshman. Can Taylor emerge as a complete quarterback? Will the loss of Evans be devastating to a team that finished near the bottom of almost every offensive statistical category in the ACC last season? Can Evans' replacements stay healthy?
That said, this is still the best team in the ACC and it's hard not to jump on the VA Tech-is-sleeper bandwagon. Frank Beamer always has the best defensive and special teams talent in the conference and Taylor is an exciting young player who has plenty of weapons around him in tight end Greg Boone and receivers Jarrett Boykin and Danny Coale to succeed. If the Hokies can put to rest some of the questions above, then they're going to be in contention this year for a national title.