2009 CFB Preview: Penn State Nittany Lions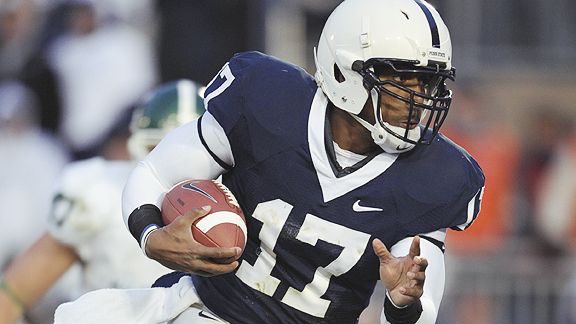 Check out our other 2009 college football previews.
Preseason Ranking: No. 9 in AP Top 25; No. 8 in USA Today Poll.
Key Returning Players: Evan Royster (RB); Stephon Green (RB); Daryll Clark (QB); Mickey Shuler (TE); Dennis Landolt (OT); Stefen Wisniewski (G); Navorro Bowman (LB); Josh Hull (LB); Jared Odrick (DT); Ollie Ogbu (DT); Drew Astorino (S).
Key Losses: Deon Butler (WR); Aaron Maybin (DE); Jordan Norwood (WR); Derrick Williams (WR); Gerald Cadogan (OT); A.Q. Scirrotto (C); Tony Davis (CB); Lydell Sargeant (CB); Maurice Evans (DE); Josh Gaines (DE); Rich Ohrnberger (G); Mark Rubin (S); Tyrell Sales (LB).
Player to Watch: Navorro Bowman, LB.
Quarterback Daryll Clark and running back Evan Royster are just as deserving to be mentioned here, but Bowman is one of the best linebackers in the nation and arguably the best defender in the Big Ten. He made the most of his playing time opportunities last year after Dan Connor was drafted and Sean Lee was out with an injury. In his first start of the season, Bowman recorded 11 tackles, five tackles-for-loss, three sacks, a forced fumble and an interception in a 45-3 trouncing of Temple in Week 4. That performance lifted him to a fantastic '08 campaign, one that was capped with him being named a consensus First Team All-Big Ten player. Now a redshirt junior, Bowman is looking to gain superstar status and get nationally recognized as one of the best linebackers in the country.
Team Strength: Is there anything else to write about in this section besides PSU's linebackers? With the return of Bowman, Lee and Josh Hull, "Linebacker U" will once again be stout in the middle of their defense. Bowman is an emerging star and before being sidelined for the entire '08 season with an injury, Lee was supposed to be the Lions' best defender. If Lee can bounce back, Penn State will once again have one of the best linebacker corps in the nation.
Potential Weakness: These are the names that PSU lost on their offensive and defensive lines: Aaron Maybin, A.Q. Shipley, Maurice Evans, Josh Gaines, Rich Ohrnberger and Gerald Cadogan. That's quite a lot of talent to lose in the trenches in one offseason. The Lions have quality offensive pieces in Clark and Royster, as well as one of the best linebacker corps in the country. But if they can't win in the trenches, PSU won't be able to stay in national title contention all season.
Outlook: Thanks to Clark, Royster and a terrific linebacker crops, the Nittany Lions are going to push Ohio State for the Big Ten title and most likely stay in the thick of things in the polls. Their schedule is favorable, with non-conference games against patsies like Akron, Syracuse, Temple and Eastern Illinois, as well as home games against Ohio State and Iowa. An early October road game against Illinois could prove to be trouble, as well as a November trip to East Lansing at the end of the year, but getting the Buckeyes at home is huge. That said, the Lions have major questions to be answered on the offensive line and even if the unit does produce, Clark lost his top three receivers from a year ago. The defensive line could be an issue as well, which would negate how productive PSU's linebackers will be.
Realistically, PSU probably lost too much talent to beat out Ohio State in the conference and make a legitimate run at a national title. But Clark and Royster should keep the Lions in contention all season.