Report: Favre has "little support" in Vikings locker room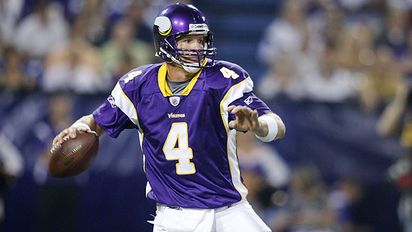 According to a report by ESPN.com, there appears to be schism in the Vikings locker room when it comes to whom the players want under center this year. Some favor Tarvaris Jackson, while others like Sage Rosenfels.
Either way, there appears to be little support for Brett Favre.
Sources with knowledge of the Vikings locker-room dynamics say some players believe Tarvaris Jackson gives the Vikings the best chance to win, while other players believe Sage Rosenfels gives the team the best chance to win — which is one of the new twists to this storyline. In the words of one NFL source, Favre has "little support" in the locker room as Minnesota prepares for its Monday night preseason game against the Houston Texans.

Vikings coach Brad Childress was even asked Wednesday about the speculation.

"I've seen the same reports you've seen," Childress said. "Those are opinions. It's hard to shoot holes in an opinion. It's just that — an opinion. I certainly don't see it."
If this situation winds up blowing up in the Vikings' faces, Childress will have nobody to blame but himself. In his desire to put Favre under center, he turned a blind eye and a deaf ear to the rest of his team and their wants.
Granted, a head coach needs to do what he feels best for his team to win and not allow the players to run the organization. But in this particular situation, Childress will have to suffer the consequences if things don't pan out, because he put Favre's wants above all else.
It's going to be an interesting season in Minnesota this year. Childress better hope this Favre situation works out in the end or else he'll face massive criticism. But if Brett wins, then nobody is going to remember what went down in August.