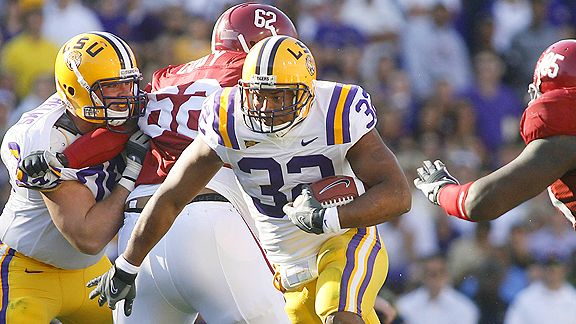 Check out our other 2009 college football previews.
Preseason Ranking: No. 11 in AP Top 25; No. 9 in USA Today Poll.
Key Returning Players: Charles Scott (RB); Keiland Williams (RB); Jarrett Lee (QB); Brandon LaFell (WR); Richard Dickson (WR); Ciron Black (OT); Harry Coleman (S); Chad Jones (S); Danny McCray (S); Rahim Alem (DE); Charles Alexander (DT); Kelvin Sheppard (LB); Perry Riley (LB); Chris Hawkins (CB); Jai Eugene (CB).
Key Losses: Tyson Jackson (DE); Ricky Jean-Francois (DT); Darry Beckwith (LB); Demetrius Byrd (WR); Colt David (K); Marlon Favorite (DT); Brett Helms (C); Herman Johnson (G); Curtis Taylor (S); Tremaine Johnson (DE); Quinn Johnson (FB); Kirston Pittman (DE).
Player to Watch: Charles Scott, RB.
After racking up 1,174 yards on 217 carries and 18 touchdowns last season, Scott proved to be a star in the making. The thundering back will once again be the backbone of the Tigers' offense and is coming off a solid showing in the Tigers' spring game in April. Head coach Les Miles also says that this year's version of the offensive line will be the best blocking unit since he's been at LSU, which is another reason to love Scott's potential in '09.
Team Strength: The defensive back seven will keep the Tigers in contention all season. Safety Harry Coleman (who is a star in the making) returns after amassing 71 tackles last season, as does defensive end Rahim Alem (eight sacks) and cornerback Chris Hawkins (three interceptions). The linebacker duo of Perry Riley and Kelvin Sheppard are set for productive seasons, while Hawkins' partner in crime, Jai Eugene, is solid overall defender.
Potential Weakness: In Scott, massive offensive tackle Ciron Black, and receiver Brandon LaFell, quarterback Jarrett Lee has more than enough talent around him to succeed. But the redshirt sophomore struggled to find consistency last year in a tough conference, throwing 16 interceptions. That's not to say that he can't develop into a quality quarterback, because he did show flashes of potential last year. But a lot of LSU's success this season depends on whether or not Lee can limit the mistakes and be a more consistent passer.
Outlook: As previously mentioned, the Tigers rest most of their hopes this season on Lee. The decisions by Scott and Black to return for their senior seasons was huge for LSU's chances of competing in the SEC this year, although the Tigers won't survive if Lee can't cut down on the mistakes that haunted him last year. But the good news for LSU is that sophomore Jordan Jefferson completed 36 of 73 passes while tossing four touchdowns and just one interception last year. So if Lee struggles early in the season or can't get it done against some of the conference's stiffer competition, Miles has a viable backup plan in Jefferson. Defensively, the back seven will be stout, but the Tigers have a major challenge on their hands replacing defensive linemen Tyson Jackson, Ricky Jean-Francois, Marlon Favorite and Kirston Pittman. If the front four can't generate consistent pressure on the opposing quarterback, it won't matter how good the back seven is.
Overall, this is a good team that will certainly give Alabama and Ole' Miss a run for their money in the SEC West. But an appearance in the SEC Championship could rest on the play of either Lee or Jefferson.