2009 CFB Preview: Oklahoma State Cowboys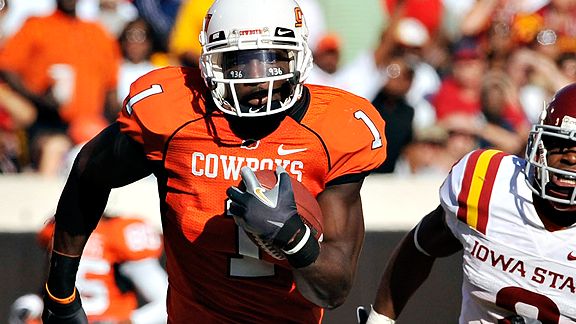 Check out our other 2009 college football previews.
Preseason Ranking: No. 11 in AP Top 25; No. 9 in USA Today Poll.
Key Returning Players: Zac Robinson (QB); Dez Bryant (WR); DeMarcus Conner (WR); Kendall Hunter (RB); Keith Toston (RB); Brady Bond (OT); Russell Okung; Andrew Lewis (C); Andre Sexton (LB); Orie Lemon (LB); Jeremiah Price (DE); Derek Burton (DE); Ugo Chinasa (DE); Perrish Cox (CB).
Key Losses: Brandon Pettigrew (TE); Steve Denning (G); Jeray Chatham (DT); Jacob Lacey (CB); Quinton Moore (S); Tonga Tea (DT); Ricky Price (S).
Player to Watch: Dez Bryant, WR.
Bryant is coming off a tremendous 2008 campaign in which he tallied 87 receptions for 1,480 yards and a whopping 19 touchdowns. He scored multiple touchdowns in five of 12 games last season, including a four-TD performance against Iowa State on November 1. At times, it didn't matter if he was double covered because he would still come down with the ball. When it comes to Bryant's talents, some are drawing comparisons to Michael Crabtree given how big, fast and strong the OSU wideout is. His coach Mike Gundy even believes that Bryant is a legitimate Heisman candidate this season.
Team Strength: The Cowboys will once again have one of the most dynamic offenses in the nation this season, with eight starters returning to a unit that was explosive in '08. Robinson was a dual threat last season and will have the fortune of throwing to one of the best receivers in the nation in Bryant and protected by one of the best tackles in college football in Russell Okung. Throw in a consistent, hard-running Kendall Hunter at tailback and Oklahoma State will once again keep opposing defensive coordinators up at night.
Potential Weakness: The defense was brutal last year and chances are it'll be brutal again this season. The Cowboys generated zero pass rush last year and the secondary was torched. While starting defensive ends Ugo Chinasa and Derek Burton are set to return, the duo combined for only 2.5 sacks last season, so an improvement in the pass rush area might not be coming. Cornerback Perrish Cox is also the only returning player in the secondary, which means OSU will be starting an inexperienced defensive backfield against some of the best offenses in the country courtesy of the Big 12.
Outlook: Oklahoma State's offense can beat opponents both through the air and on the ground, so the Cowboys will be deadly once again on that side of the ball. Their problem is the defense is so bad. OSU's offense can compete with anyone in the Big 12, but the difference between the Cowboys and the other big boys in the conference like Oklahoma and Texas is that both of those teams have better defenses. Pundits can wax poetically about Bryant, Robinson, Hunter and the rest of the Cowboys' offense all they want, but the bottom line is that the defense must step up for this team to achieve ultimate success this season. And while OSU is exciting and fun to watch, it's not likely that the defense will keep them in title contention.