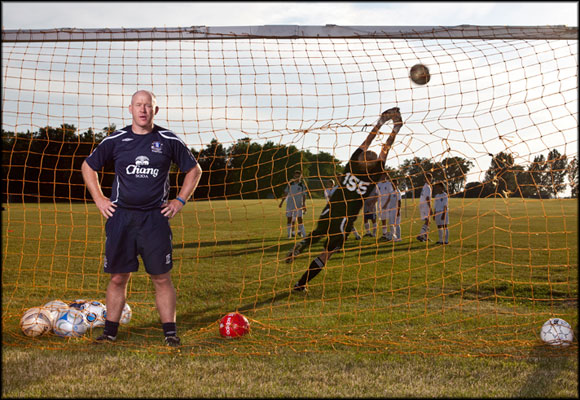 Soccer enthusiasts should check out this article [Insider subscription required] in the Aug. 24 issue of ESPN The Magazine. It's about "The Everton Way," which is a term used to describe the training method used by EPL team Everton, a club that doesn't have money to poach the best players from other teams, so they have to cultivate it. Think of Everton as the Milwaukee Brewers of the EPL.
Tony Farrell (a.k.a. "Tosh") is touring the U.S. holding clinics on the subject. More and more U.S. soccer associations are signing up and are starting to teach their kids the system, which focuses less on wins and losses and more about coaching and technique.
The Everton Way is many things, but at its center is this maxim: Great footballers are made, not born. Like every British team, Everton is permitted to sign kids as young as 9 years old to its youth academy. But, per the rules of the Football Association, which governs the EPL, no club may recruit any player who lives more than an hour's drive from its training complex. The mandate was instituted long ago to keep the battle for young talent from turning ugly. The problem for Everton is that one-quarter of its scouting region is in the Irish Sea. So, over the past 20 years, the team has perfected a teaching strategy that, in truth, is more nuanced worldview than coaching dictum. There are no secret mantras or exotic drills in the Everton Way; most of the training techniques are identical to those used at other major soccer academies around the world. The difference is in the details, or more precisely in the club's commitment to paying close attention to them. To the extent that the Everton Way has major tenets, they are as follows: 1) The best coaches should teach the youngest players, because lifelong habits are formed early; 2) all instructors should coach according to their expertise, which means you will never see an Under-16s coach holding forth on the potential of an Under-10s player; 3) winning doesn't matter until kids are about 16; what does matter is technique and development; and 4) every year, at least one player who signed as a 9-year-old will debut with the pro club.
Could this be what finally makes U.S. soccer a constant on the international stage?