Another reason to be down on Michael Turner this season…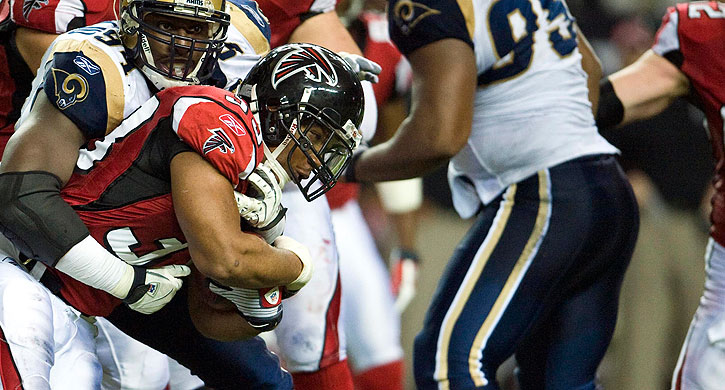 I've already mentioned the "Curse of 370," but Michael Turner is facing yet another challenge this season — a much tougher schedule.
Here's a look at Turner's performance last year against good, mediocre and bad rush defenses:
– In three games against top 10 rush defenses (Chicago, Philly and Minnesota), Turner averaged 20.3 carries for 60.7 yards and 0.3 TD, which translates to 8.1 fantasy points.
– In seven games against teams ranked #11-#20 in rush defense (New Orleans x 2, Carolina x 2, Tampa Bay x 2, and San Diego), Turner averaged 23.4 carries for 92.0 yards and 1.0 TD, which equals 15.2 fantasy points.
– In six games agains teams ranked #21 to #32 in rush defense (Denver, St. Louis, Detroit, Kansas City, Green Bay and Oakland), Turner averaged 25.2 carries for 145.5 yards and 1.5 TD, which is 23.5 fantasy points.
In short, Turner killed poor rush defenses, did pretty well against mediocre defenses and struggled against good ones. That makes sense, right?
Heading into the 2009 season, Turner's schedule is shaping up to be tougher. He has six matchups with teams that finished in the top 10 last year, nine matchups with teams that finished #11-#20, and just one game against a team that finished #22-#32 (#22 Buffalo). On average, he's going from a schedule that has an average rank of 19.3 against the rush to one that has an average rank of 13.6. Not good.
So assuming that Turner has the same averages against each of the three groups, and last year's finish is a reasonable expectation for how these defenses will fair (a big assumption, I know), then Turner would project to 358 carries for 1338 yards and 13 TD. Those are still good numbers, but a far cry from the 1699 yards and 17 TD he posted last year.
Assuming he continues to be a non-factor in the Atlanta passing game (and with the addition of Tony Gonzalez, this is not a big assumption), and posts another six catches for 41 yards, then these rushing and receiving totals translate to 221 fantasy points (in a high performance PPR league). That would have made him RB15 last year.
I still like Turner — hell, I have him in a keeper league, so I'm rooting for the guy — but I just don't think he's first round material this season in PPR leagues.