What is Favre's fantasy value?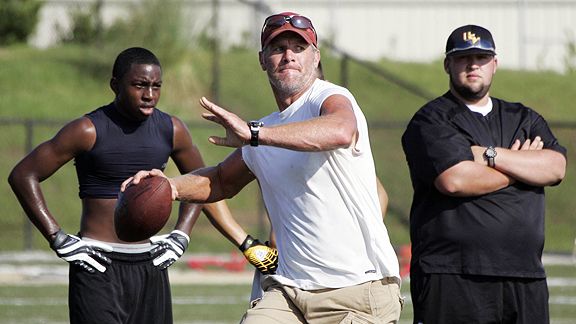 In case you missed it, pending a physical, Brett Favre is about to become a Viking.
People are justifiably interested in talking about the on-again/off-again Brett Favre saga, and how the Vikings bent over backwards, allowing #4 to skip training camp because…well…he doesn't like to practice.
But what about his fantasy impact?
First things first, the Vikings have one of the easiest schedules for a QB. Whether it's Brett Favre, Sage Rosenfels or Tarvaris Jackson, the Minnesota QB is only projected to have one tough matchup all season.
Fans around the country have been dumping on Favre since the Jets' December swoon last season, but let's not forget the fact that he was in the MVP conversation as late as Week 12 after he led the Jets to a 34-13 victory over the then-undefeated Titans in Nashville. At that point, Favre was averaging 224 yards, 1.8 TD and 1.2 INT per game. Had he continued on that pace, he would have finished as fantasy's #9 QB, ahead of David Garrard and behind Matt Cassel. Somewhere around this point in the season, Favre tore his biceps which led to his late-season swoon. Even so, he finished as QB13.
In early July, when Favre-to-Minnesota looked inevitable, he was going in the 12th round. I suspect that he might go a bit earlier (maybe the 9th-11th) now that it's (almost) official. This puts him the QB15-QB20 range. I'd probably take him after Cassel/Hasselbeck/E. Manning/Garrard but before Orton/Edwards/Flacco/Delhomme.
Favre is still starter-caliber when healthy, but his age makes him better suited to be part of a QBBC. With that in mind, I re-ran the QBBC numbers, assuming that Favre would score 251 fantasy points (in a high performance scoring system) figuring that last year's total (which included five games with a torn biceps) would be a fair estimate of his 2009 production. It turns out that Favre's schedule combines well with Shaun Hill (#14 combo), Garrard (#20) and Cassel (#27), so if you're trying to get one of my recommended QBBC combos — Cassel/Hill, Garrard/Hill or Garrard/Cassel — Favre works with all three of those QBs. Put him alongside Trent Edwards on your list of backup options if you miss out on one of those players.
As for the rest of the Vikings, the threat of Favre in the passing game should boost the value of Adrian Peterson, while his experience and talent should help Bernard Berrian, Percy Harvin and Visanthe Shiancoe.
If you do draft Favre, be sure to grab Sage Rosenfels as his backup. Prior to the Favre signing, Rosenfels was leading the QB competition and has the best chance of being Favre's backup.