Marshall still wants Broncos to trade him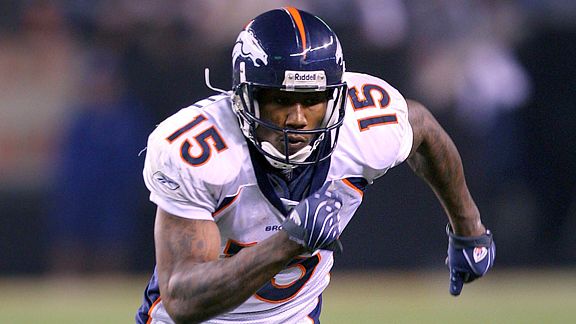 One would think that Broncos receiver Brandon Marshall would lay low for a while after being acquitted last week of a misdemeanor battery charge for supposedly beating his girlfriend. But apparently that's just not how Brandon Marshall rolls.
According to a report by Yahoo! Sports, Marshall has reiterated to the Broncos that he either wants a new contract extension or be traded.
Marshall and his agent apparently got together with Denver Broncos head coach Josh McDaniels yesterday to let him know that the wide receiver still wants a new contract extension or to be traded. The team reportedly has no plans to change his contract or trade him.
So Marshall didn't practice yesterday and may just hold out till something better comes along. Of course, that means a daily $15,888 fine, which could eat into his $450,000 pretty quickly.
Marshall is reportedly looking for a deal in the neighborhood of what the Falcons gave Roddy White ($48 million over six years). Apparently NFL receivers just can't be happy for each other without wanting what the other is making. (Don't forget that White wanted what Greg Jennings got from the Packers earlier this offseason.)
Marshall doesn't get it. The Broncos aren't going to commit that kind of money to a guy who could easily wind up in court again by the end of the year, as opposed to helping them on the gridiron. His production on the field certainly warrants a new contract, but his immaturity off it will keep Denver from following through on an extension.
The Broncos aren't going to trade him and if Marshall were smart, he would play out the remainder of his contract by being good both on and off the field. At the end of the year, the Broncos can decide whether or not he's worth the investment by either offering him a new deal, franchising him so he doesn't hit the open market, or flat out allowing him to walk via free agency.
The bottom line is that Denver wants the ball in its court and not allow Marshall (or his agent) to have control of the situation. If things get messy heading into the season, so be it, but the Broncos can't allow another player to dictate his own situation like Jay Cutler was able to do before he was traded to Chicago.