Favre to sign with Vikings soon?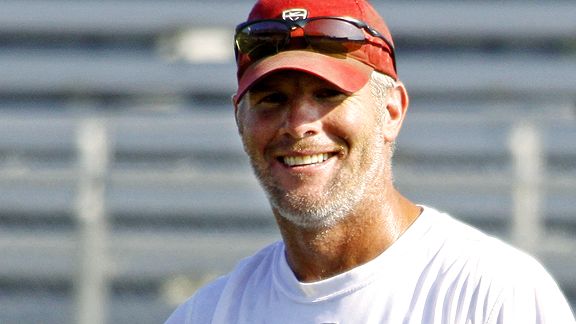 According to a report by WCCO-TV in Minneapolis, free agent quarterback Brett Favre will sign with the Vikings sometime today.
Favre is on currently on his way to Minneapolis and is expected to sign with the team this afternoon, the source said.

WCCO-TV spoke with an official at the Hattiesburg, Miss., airport, who saw an airplane with the Vikings logo leave the airport Tuesday morning. The flight number for that plane has been blocked from tracking systems.
This is ridiculous. What has changed since July 28, when Favre told the Vikings that he would stay retired and not play football in 2009? What, does his arm feel significantly better today than it did at the end of July? Or did Favre just want to skip training camp and now that the Vikings have begun preseason play, he's ready to join them?
If the Vikings sign Favre, it would be a massive slap in the face of Sage Rosenfels, who was brought to Minnesota this offseason in order to compete for a starting gig. Minnesota dragged Rosenfels through the ringer while flirting with Favre all summer, only to tell him that he was once again in line to be the starting quarterback after Brett said he would stay retired. Then, Rosenfels goes out and completes 10-of-13 passes for 91 yards in the Vikings' preseason opener last week and now will once again take a back seat to Favre when/if the former Packer is signed.
I get that a legend like Favre would pull rank over a 31-year-old journeyman like Rosenfels, but it's the principle of the matter. When Favre told Brad Childress that he was going to stay retired, that should have been the end it. But instead, Childress is so far down Brett's pants that he'll do anything in order to have Favre in purple and yellow this season.
Or maybe Childress knew all along that Favre was going to sign as soon as training camp was over. If that's the case, then I still stand by the notion that Childress is sackless, because he should have told Favre to get his ass into training camp if he wanted to play this season.
What a load of crap.