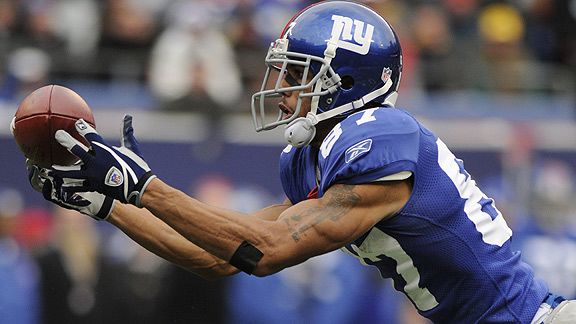 All 2009 Fantasy Articles | 2009 Position Rankings
In the world of fantasy football, the WR position is by nature in constant flux. Every NFL team has two starters, and the potent offenses are even capable of giving a third WR some fantasy value. This means that there are 80+ wideouts that will get consistent playing time on a weekly basis, and that provides plenty of opportunity for surprise breakout stars. Compare this to the RB position, where it usually takes an injury for a lesser-known back to get a shot. Last year, Eddie Royal, Lance Moore, Kevin Walter, Isaac Bruce, DeSean Jackson and Steve Breaston all finished in the top 30 in PPR leagues, and 2009 should have its fair share of surprises.
I listed my mid-round value WRs as part of our positional preview, but here are my top 5 late-round gems (for PPR leagues), sorted by projected value in relation to price. I'll also list several more to keep an eye on as your fantasy draft winds down. To be eligible, the wideout has to have an average draft position (ADP) in the double digits (i.e. he's going in the 10th round or later).
And off we go…
1. Domenik Hixon, Giants (12.07)
With Plaxico Burress sitting in court, pondering his decision to stuff a gun in the waistband of his sweatpants, the Giants have a gaping hole at WR. Hixon hopes to fill it, and he's already shown signs that he's capable. Over the last six weeks, Hixon averaged 4.7-59-0.2. He's just 24, possesses great speed and is entering his third season, which is a prime time for a WR to break out. Sure, the Giants' decision to draft Hakeem Nicks is a little worrisome, but he's been hobbled with a bad hamstring and has a long way to go to usurp Hixon, whom I'd start to think about in round 10.
2. Davone Bess, Dolphins (16.03)
As a rookie, Bess stepped in for the injured Greg Camarillo, and posted 5.8-61-0 – that's a 92-catch pace – over the last six games. He only scored one TD all year, so obviously he's better suited for a roster spot in a PPR league, but he's tough, quick and has good hands. I like Ted Ginn as well, but Bess is a better value in the waning rounds, especially since he's still in the starting lineup despite the fact that Camarillo is healthy again.
3. Chaz Schilens, Raiders (14.10)
It's always dicey to count on an Oakland WR, but in the later rounds, Schilens is definitely worth a flier. The Raider beat writers say that he is the team's clear #1 WR, and he has performed well in the preseason, building on his momentum from the last two games of last season (6 catches for 98 yards and two TD against the Texans and Bucs). Schilens could be primed for the rare (but not unheard of) second-year breakout. It certainly helps that JaMarcus Russell seems to be consistently looking his way.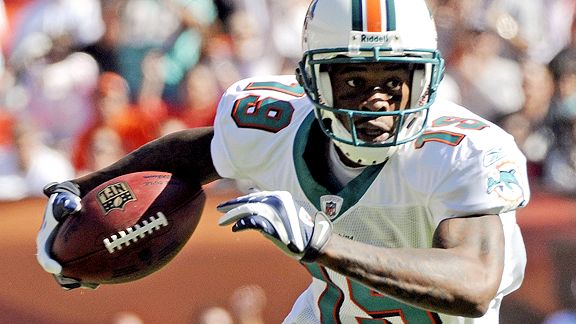 4. Ted Ginn, Jr., Dolphins (10.10)
Ginn had a pretty nice sophomore campaign, catching 56 passes for 790 yards, but he wasn't terribly consistent and had trouble finding the endzone (2 TD). Now he's entering his third year and seems poised to increase his catch and yardage totals once again. All things considered, he was WR34 last year, so it doesn't make a whole lot of sense that he's being drafted WR41 this summer. He's a nice pick in the 9th in PPR leagues.
5. Nate Washington, Titans (12.02)
I've been a long-time supporter of Justin Gage in recent years, but with the way the Titans are moving Washington around in the preseason, it appears that they plan to use him to create mismatches all over the field. He flashed big play potential while in Pittsburgh and now that he's a starter, he should improve on the 40-631-3 that he posted as the Steelers' WR3 last season. After all, the Titans didn't sign him to a big contract just to use him as a decoy. It might not be a bad idea to grab both Washington and Gage in the late rounds. That way, fantasy owners would have a good chance at getting a productive WR once the pecking order shakes out a bit.
Here are several other late-round WRs to consider. They're listed in order of their Antsports ADP — if you don't see an ADP, then they're not being drafted in the first 16 rounds.
Muhsin Muhammad, Panthers (12.08)
Barring an injury to Steve Smith, "Moose" doesn't have a whole lot of upside, but the 36-year-old will post decent numbers in PPR leagues.
Josh Morgan, 49ers (12.10)
Someone has to catch the ball in San Francisco, and as long as Michael Crabtree holds out, Morgan seems to be the guy on the 49er roster with the most upside. He caught five passes for 105 yards and a TD over the last two games of 2008 and is currently starting opposite Isaac Bruce.
Steve Smith, Giants (12.11)
Smith is a possession receiver, but could hold some value in PPR leagues. He caught 57 passes last year and stands to improve on those numbers now that Plaxico Burress is gone.
Justin Gage, Titans (13.10)
Over a seven-game stretch late last season, Gage averaged 3.0-67-0.7, which is starter-caliber fantasy production. However, he has had trouble staying healthy and the addition of Nate Washington is likely to cut into his targets.
Chris Henry, Bengals (14.05)
Henry is reportedly a changed man and has drawn raves from QB Carson Palmer. Always a threat around the goal line, Henry is still the WR3 in Cincy with the addition of Laveranues Coles.
Kevin Curtis, Eagles (14.07)
Curtis is listed as Philly's WR2, so he should be on the field a lot and if he's open, McNabb will find him. He battled injuries last year, but still posted some decent per game numbers. There isn't much upside here, but he's should be a decent fill-in in PPR leagues.
Earl Bennett, Bears (14.07)
Bennett played with Jay Cutler at Vanderbilt and is being counted on as a starter in his second year. He reportedly has good hands and should get plenty of opportunity to shine in the Bears' suspect receiving corps. Bennett has good upside for a guy going in the 14th round.
Laurent Robinson, Rams
The Rams traded for Robinson in the offseason and there is plenty of playing time available in St. Louis. Donnie Avery is out with an injury, and Robinson has played pretty well in the preseason, so he should be a starter come Week 1. The Rams will likely trail a lot this year so he should be able to post good numbers in garbage time.
Devin Thomas, Redskins
He faces a challenge from Malcom Kelly and Antwaan Randle El, but the coaching staff has been complimentary of Thomas all preseason and it looks like he's going to start opposite Santana Moss. Thomas is a second-year guy who should improve greatly on his rookie numbers (15-120-0).
Nate Burleson, Seahawks
He's back from ACL surgery and is looking explosive in training camp. He's slated to start alongside T.J. Houshmandzadeh, so he should be a good WR5 or WR6 in the final rounds of fantasy drafts.
Demetrius Williams, Ravens
With Mark Clayton sidelined with a torn hamstring, the door is wide open for Williams. The question is – will he step through? The oft-injured wideout has shown big-play potential and the Ravens desperately need him to perform.