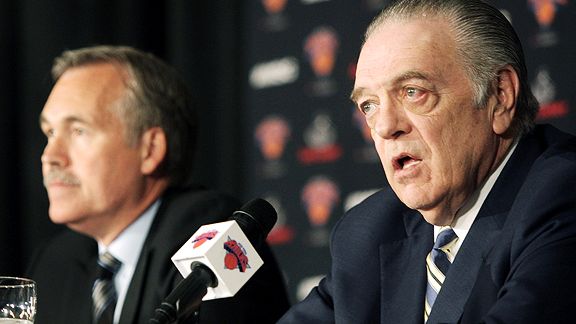 It seems like an obvious match on paper. The Knicks have a well-documented need for a point guard and Ricky Rubio is threatening to play another year or two in Spain so that he can avoid playing in Minnesota, at least for the time being. Then, of course, there is the T-Wolves' decision to draft point guards with back-to-back picks in this year's draft. Throw in the Knicks' reluctance to sign a point guard this summer and it all adds up — they're pursuing Rubio.
One insider tells RealGM's Alex Kennedy that Kahn could be working out a scenario where Rubio would be dealt to the New York Knicks.

"Kahn and [Knicks' President] Donnie Walsh are close and New York is looking for a cheap point guard who could help attract free agents next summer. Rubio fits that mold. I think that's what this latest trip to Spain is about, working something out with New York."
First, let me state that this is all speculation. An "insider" told Real GM that Kahn "could be" working out a deal that would send Rubio to New York. This isn't exactly substantial stuff.
Regardless, it's not clear what New York would have to give up in this scenario, as they don't have too many assets to offer. David Lee is a possibility, but the T-Wolves are pretty set up front with Al Jefferson and Kevin Love. Nate Robinson is a good scorer, but wouldn't be equal value for the potential that Rubio brings to the table. Wilson Chandler is a nice (though not particularly efficient) small forward, which is the same position that LeBron James plays.
Lee would seem to be the best that the Knicks have to offer, but would the T-Wolves want to pay him $8-$10 million per season when he'd likely come off the bench? Thinking about it, Chandler plus an unprotected first round pick might do the trick.