Daily Six-Pack: NFL Preseason Saturday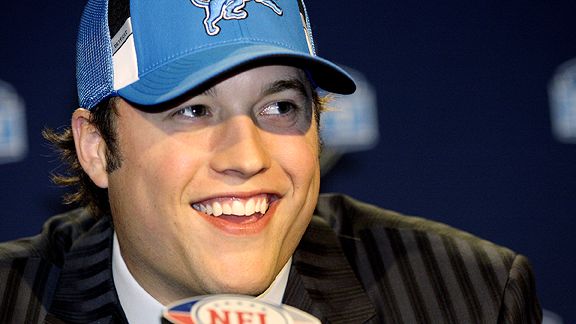 Six games highlight Saturday's preseason action in the NFL. Below are six things to keep an eye on tonight in the NFL.
1. It's the start of a new era in Detroit.
Word out of Lions camp is that rookie Matthew Stafford is way ahead of the curve when it comes to first-year quarterbacks. Even though Detroit would love to see veteran Daunte Culpepper take the majority of the snaps behind a brutal offensive line this season, it appears that Stafford has made quite the impression and it may be hard for the Lions to keep him on the sidelines. Today when the Lions host the Falcons in both teams' preseason opener, Detroit isn't going to overact to Stafford's performance either way. If he goes out and throws two interceptions in two series, they'll shrug it off as a learning experience. If he throws two touchdowns on his first two pass attempts, the team will chalk it up to preseason luck and hope the live game experience will be valuable in his development. The point is that it's only preseason and chances are, his performance won't be an indication either way of how well he'll fair in Detroit. The key is that the Lions can officially put their disastrous 2008 season behind them today, and Stafford represents the future.
2. Cutler makes his Bears' debut.
You'll be hard pressed to find a Chicagoan who isn't thinking playoffs (or even Super Bowl) after the Bears acquired quarterback Jay Cutler from the Broncos this offseason. You'll have to excuse Chicago fans for their budding enthusiasm because, you see, they've been waiting a long time for a quarterback of Cutler's ilk to pass through their great city. Sure, the Bears still don't have the greatest set of receivers and there are still question marks surrounding the offensive line, even after the offseason addition of Orlando Pace. But none of that will matter once Cutler lines up under center tonight against the Bills and riffles his first completion, because the Bears finally have their quarterback.
3. The new-look Chiefs.
The Chiefs went through a whirlwind of changes this offseason, hiring long-time New England front office executive Scott Pioli as their GM, former Arizona offensive coordinator Todd Haley as their head coach, and trading for former Patriots quarterback Matt Cassel. The new-look Chiefs will take the field tonight against the Texans and there is a raw energy surrounding the team. Haley has implemented a new no-nonsense attitude, Cassel finally gives the Chiefs some stability at quarterback, running back Larry Johnson is reportedly in great shape, the young offensive line continues to develop and Pioli has worked hard revamping the defense. It could be a while before all of these changes amount to victories, but there's no question that the Chiefs are heading in the right direction.
4. Eric Mangini puts his imprint on the Browns.
It's out with Romeo Crennel and in with Eric Mangini and as the Browns head to Lambeau Field tonight to take on the Packers, the Cleveland faithful will be focusing on what kind of impact their new head coach will make. Crennel was often criticized for his laid back personality, one in which many people thought was an underlying issue with the Browns over the years. Mangini is a lot of things, but laid back isn't one of them. He's had a rather tumultuous start to his tenure in Cleveland, first butting heads with DT Shaun Rodgers and then having to deal with receiver Braylon Edwards reporting to camp late and then failing a physical. But all of that goes out the window tonight when the Browns take the field for the first time since Mangini took over. Will his influence have a positive or negative effective on a team in desperate need of a postseason berth? Who will emerge between Brady Quinn and Derek Anderson as Cleveland's starting quarterback? Will Mangini and his staff be more aggressive in their coaching and scheming than their predecessors? Let the fun begin.
5. Is Hasselbeck finally healthy?
For the better part of his decade, the Seahawks have absolutely dominated the NFC West. But a back injury to quarterback Matt Hasselbeck doomed the Hawks last season and a changing of the guard happened in the division. Early reports indicate that Hasselbeck is healthy again (save for a sore elbow) and ready to assume his role under center again. But can he stay healthy all season? Can he succeed under new head coach Jim Mora as he did Mike Holmgren, who used to call all of the plays for Seattle's West Coast Offense? A good showing tonight against the Chargers would go a long way in proving that Hasselbeck is healthy again.
6.Can the Packers make the transition to the 3-4?
One of the main issues Green Bay had defensively last year was stopping the run. So they hired Dom Capers as their new defensive coordinator in hopes that his 3-4 scheme would help give them a boost in that area. They also selected big-bodied, agile DT B.J. Raji and OLB Clay Matthews in the first round of April's draft and expect both players to contribute as rookies. The Packers will need both players to learn on the job this season, as well as former defensive end Aaron Kampan to make the transition to outside linebacker. Considering Green Bay's secondary should once again be solid, if the front seven can step up and produce the Packers will be in the playoff hunt. But tonight is the first live dress rehearsal for the Pack's new defense, so it'll be interesting to see how they fair.
Posted in: NFL
Tags: Atlanta Falcons, Brady Quinn, Braylon Edwards, Buffalo Bills, Chicago Bears, Cleveland Browns, Daily Six-Pack NFL, Derek Anderson, Detroit Lions, Eric Mangini, Jay Cutler, Matt Hasselbeck, Matthew Stafford, Orlando Pace, San Diego Chargers, Seattle Seahawks, Shaun Rodgers