2009 Fantasy Football Preview: WRs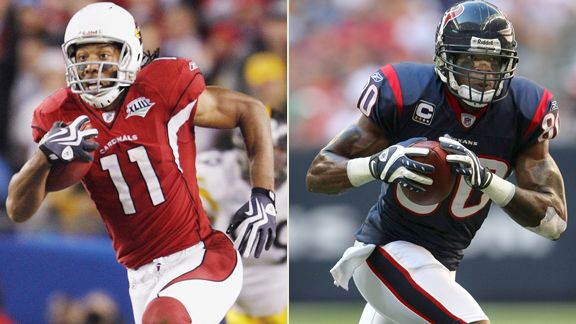 All 2009 Fantasy Articles | 2009 Position Rankings
As more and more leagues have tweaked their rules to try to even out the importance of other positions with respect to running backs, wide receivers have become increasingly valuable in the last few years. In leagues that award one point per reception, it's a completely legitimate strategy to draft a WR in the back half of the first round. In fact, after the top five or six PPR backs – Maurice Jones-Drew, Adrian Peterson, Steven Jackson, Matt Forte, LaDainian Tomlinson and Frank Gore – are off the board, we wouldn't snicker at someone who decided to pull the trigger on Larry Fitzgerald or Andre Johnson instead of going choosing a player from the second tier of RBs. (If you're wondering about Michael Turner, we love the guy, but he isn't going to catch any passes and it doesn't look like he'll approach 376 carries again this season.)
Wide receivers are a little dicey because of the inconsistency that is intrinsic to the position. WRs have to depend on plays being called for them and on their QB to deliver the ball. There's a better chance that a top RB will get his 20 touches (handoffs, dump offs) than there is that a top WR will get his 7-8 catches. As an example, last year's top RB, Matt Forte, only had one game where he scored fewer than 14 fantasy points, and that was in Week 17, when it didn't really matter. Conversely, the top WR, Andre Johnson, had four games where he scored fewer than 10 fantasy points (including Week 16, when it really mattered).
This year there appear to be a group of 12 stud fantasy wideouts: Fitzgerald, A. Johnson, Steve Smith, Calvin Johnson, Reggie Wayne, Randy Moss, Wes Welker, Anquan Boldin, Greg Jennings, Roddy White, Dwayne Bowe and Marques Colston. These are proven players that are in stable situations, or saw their situations improve over the summer (i.e. Matt Cassel in for Tyler Thigpen is an upgrade for Bowe). Anyone not on this list changed teams (T.J. Houshmandzadeh, Laveranues Coles), had a downgrade at QB (Brandon Marshall, Jerricho Cotchery), has an attitude problem (Braylon Edwards, Chad Ocho Cinco), or some combination of all three (Terrell Owens).
This, coupled with the relative depth at the RB position – there are a number of backs going in rounds 3-5 that are good bets to crack the top 20 or top 15 – makes this a year when drafting a WR or two in the first three rounds a pretty compelling strategy. Would it be better to have Steve Slaton, Brian Westbrook and Terrell Owens or Larry Fitzgerald, Reggie Wayne and Ronnie Brown? We'd feel better about that second group.
Regardless, it's always good to have a few guys targeted in those middle rounds (5-9) so that you can build depth and maybe even find a guy that develops into a starter-caliber WR. There is a tendency now to always look young at wideout, and this is causing some proven veterans to slip further than they should.
Any ADP data you see is from Antsports (from mock drafts completed between 7/21 and 8/11), and it assumes a 12-team league with a High Performance scoring system, which includes 6 points per receiving TD and one point per reception. Wide receivers will be more important in PPR leagues and in leagues that have a flex position instead of a second RB position. For the purposes of these rankings, we're assuming that the starting requirements are as follows: 1 QB, 1 RB, 2 WR, 1 flex (RB/WR), 1 TE, 1 PK and 1 DT.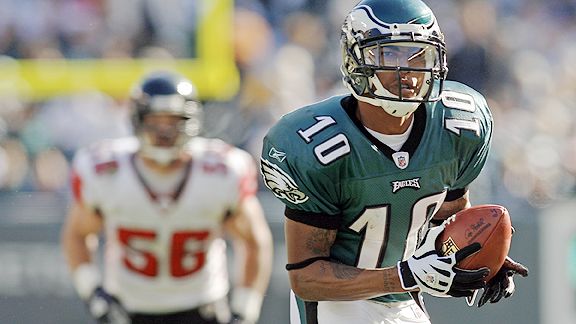 DeSean Jackson, Eagles (5.11)
It's rare that a rookie WR stands out, but in his first season, DeSean Jackson caught 62 passes for 912 yards and two TD. He burst onto the scene, averaging 5.5 receptions for 82 yards and 0.3 TD in his first four games, but struggled a bit down the stretch, averaging just 2.3 catches for 34 yards and zero TD in the last four games. Some argued that he had hit the rookie wall, but Jackson bounced back in the playoffs, posting 10 catches for 173 yards and a TD in the Eagles' postseason matchups against the Giants and Cardinals. He was WR26 last year, so it's a little perplexing that he's going just a bit before that in recent mock drafts. His detractors argue that aside from a couple of seasons with Terrell Owens, Donovan McNabb spreads the ball around, but other than Owens, when has McNabb had someone of Jackson's talent to throw to?
Santana Moss, Redskins (7.01)
Moss finished the season as WR14, so it's a little strange to see him going in the mid-20's in recent mocks. He is a tough guy to get a handle on, as injuries have limited his production in certain seasons. Even though he's on the wrong side of 30, the Redskins' offense is staying pretty much the same. So barring injury, there's no reason to believe that he won't finish in the top 20 again in 2009. This makes him a fine value in the late 6th or early 7th.
Jerricho Cotchery, Jets (7.02)
Cotchery seems to make our value list every year, but 2008 was the first year in which he regressed. Laveranues Coles is gone, which could be both a positive and a negative for Cotchery. On one hand, he's going to be "The Guy" at WR, but on the other, he won't have Coles to take away some of the defensive focus. He may have a rookie QB throwing to him, so Cotchery's upside is dependent on how quickly Mark Sanchez can progress (though as camp opens, Kellen Clemens is QB1). The Jets figure to struggle, so Cotchery may be able to rack up the catches and yards in garbage time.
Donnie Avery, Rams (7.06)
Avery had an up and down rookie season, finishing with 53 receptions for 674 yards and three TD. But Torry Holt is now in Jacksonville, so WR1 duties now fall to the sophomore. The entire Rams offense struggled last season, so the team brought in a new offensive coordinator (Pat Shurmur, former Eagles' QB coach) to implement the West Coast Offense. Steven Jackson will be the focus, but Avery should be top target in the passing game. He may miss the first part of a season due to injury, so his ADP will probably slip into the 8th or even 9th over the next couple of weeks.
Torry Holt, Jaguars (7.12)
Normally, we'd shy away from WRs that are changing teams, but prior to last season, Holt was a perennial top 10 player and he joins an offense that looks to be more effective than the one he played in last season. He said that his knee wasn't a problem last year and that he struggled because the whole Rams' offense struggled. If all of this is true, and the 33-year-old Holt still has some gas left in the tank, he could be in line for a nice WR2/WR3-type fantasy season in 2009.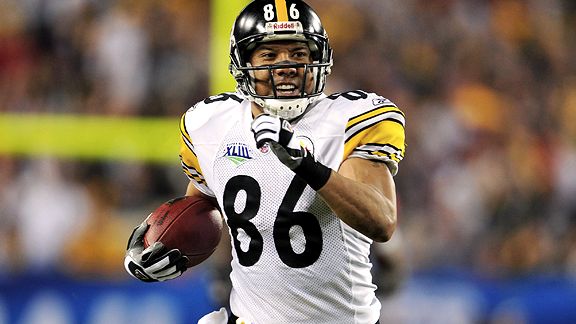 Hines Ward, Steelers (7.10)
Let's see. Ward was WR15 in a season when the Steelers' passing game struggled and the team just gave him a four-year extension. So why is he going in the early 30's in mock drafts? He isn't flashy, and he isn't going to explode for 1600 receiving yards. But assuming he stays healthy, Ward should be able to take advantage of an easy schedule and post 70+ receptions, 900+ yards and 6-8 TD. That would be a nice haul for a guy that's currently going in the 7th or 8th round.
Here are our official WR rankings, broken into tiers:
1. Larry Fitzgerald
2. Andre Johnson
3. Reggie Wayne
4. Randy Moss
5. Calvin Johnson
6. Steve Smith (CAR)
7. Roddy White
8. Greg Jennings
9. Anquan Boldin
10. Dwayne Bowe
11. Wes Welker
12. Marques Colston
13. Terrell Owens
14. Brandon Marshall
15. T.J. Houshmandzadeh
16. Chad Ochocinco
17. DeSean Jackson
18. Braylon Edwards
19. Santana Moss
20. Eddie Royal
21. Jerricho Cotchery
22. Anthony Gonzalez
23. Santonio Holmes
24. Hines Ward
25. Vincent Jackson
26. Antonio Bryant
27. Roy Williams
28. Torry Holt
29. Donnie Avery
30. Bernard Berrian
31. Donald Driver
32. Lance Moore
33. Laveranues Coles
34. Lee Evans
35. Domenik Hixon
36. Devin Hester
37. Ted Ginn
38. Steve Breaston
39. Kevin Walter
40. Josh Morgan
41. Michael Crabtree
42. Chris Henry
43. Justin Gage
44. Nate Burleson
45. Steve Smith (NYG)
46. Kevin Curtis
47. Earl Bennett
48. Chaz Schiliens
49. Derrick Mason
50. Davone Bess
51. Michael Jenkins
52. Nate Washington
53. Mike Walker
54. Devin Thomas
55. Mike Bradley
56. Joey Galloway
57. Jeremy Maclin
58. Sidney Rice
59. Hakeem Nicks
60. Isaac Bruce