2009 Fantasy Football Preview: RBs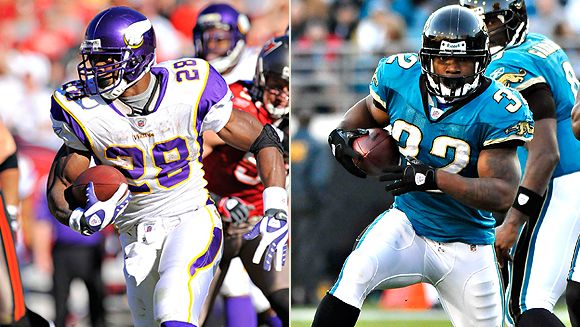 All 2009 Fantasy Articles | 2009 Position Rankings
Ah, the good ol' running back…they're the backbone of every good fantasy football squad…most of the time.
Over the past few years, many leagues have tried to diminish the importance of the running back position. If your league only requires one starting RB (and makes the other a flex position), then RBs aren't quite as important as they are in leagues that require two starting backs. If your league awards a point per reception, the importance of wide receivers and tight ends is increased, while the talent pool at RB is expanded to include players that catch a lot of passes out of the backfield. For example, in a non-PPR league, Reggie Bush is just a mediocre starting back. In a PPR league, he is fantasy gold. (Assuming he's healthy, of course.)
A typical first round will include 10 or 11 running backs with a quarterback or a wide receiver sneaking in late to break up the streak. With the trend of taking the onus away from the RB position, there has been a small, but growing movement towards drafting a WR late in the first round. The theory goes that the RBs available that late (and early in the second round) aren't all that much better that those that are available in the late third or early fourth. So instead of following the herd, why not draft a WR like Larry Fitzgerald or Andre Johnson that will give you an advantage at another position? After all, in PPR leagues, Fitz and AJ might very well be expected to score more points than Adrian Peterson.
This year, for owners stuck with a late pick in the first round, this strategy looks solid, but it should (probably) only be utilized in those leagues that have a flex position instead of a RB2 or those leagues that award one point per reception. Instead of drafting Steve Slaton or Chris Johnson, go with Fitz or AJ. Guys like Ronnie Brown, Darren McFadden, Kevin Smith, Pierre Thomas, Ryan Grant, Derrick Ward, Knowshon Moreno and Marshawn Lynch may be available at the 3/4 turn – would anyone be shocked if one or more of these players outperformed Slaton or Johnson? And if you're in a league that features both a flex position and one point per reception, don't be afraid to go WR/WR with your first two picks. Yes, you'll really be zagging when everyone else is zigging, but you really only need to find one good running back to start with your next several picks and you'll already have a huge advantage at WR1 and WR2.
But if you're in a non-PPR league with two starting RBs, then it's usually wise to go RB/RB with your first two picks. Fitz or AJ would be tempting early in the second round, along with Reggie Wayne, Randy Moss, Steve Smith and Calvin Johnson a little later on, but by the time the 3/4 turn rolls around, there isn't going to be much left at RB.
Still, with all of those aforementioned backs, a few are bound to be available. So let's focus on a few players that should be available in rounds 3-7 and try to identify the best values of the early-middle rounds. We'll also provide rankings for the entire RB position, broken into tiers.
Any ADP data you see is from Antsports (from mock drafts completed between 7/19 to 8/9), and it assumes a 12-team league with a High Performance scoring system, which includes 6 points per rush TD and one point per reception. Running backs will be more important in leagues with two starting slots or in leagues that don't give a point per possession. For the purposes of these rankings, we're assuming that the starting requirements are as follows: 1 QB, 1 RB, 2 WR, 1 flex (RB/WR), 1 TE, 1 PK and 1 DT.

Knowshon Moreno, Broncos (4.08)
The Broncos used a first round pick (12th overall) on the talented Georgia back, and since RB is one of the easier positions for a NFL rookie to excel, his prospects for 2009 are bright. Peyton Hillis, Correll Buckhalter, LaMont Jordan and Ryan Torain are also there, but Moreno is the most talented runner of the group. Moreover, in 2008, the Broncos were 2nd in the league in yards per carry with 4.8. This was with Michael Pittman, Peyton Hillis and Selvin Young rushing the football. Barring injury, Moreno should get starter's carries and finish in the top 15 with an outside shot at the top 10, though a tough schedule puts something of a damper on his upside. He's currently going in the 4th, but his ADP should be solidly in the 3rd assuming he gets into camp reasonably soon.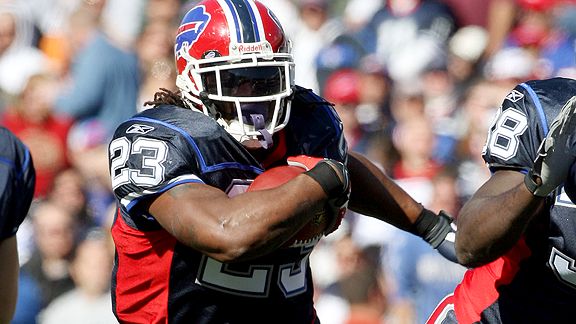 Marshawn Lynch, Bills (4.08)
Lynch's ADP is depressed because he's going to miss the first three games due to suspension. Last year, we saw two players – Steve Smith and Brandon Marshall – tear it up after returning from suspension, and they were both big values on draft day. If you can combine Lynch in the late 3rd or early 4th and his backup, Fred Jackson, in the 8th or 9th, you're essentially getting a borderline first round RB, which will pay dividends throughout the season. Plus, the Terrell Owens acquisition should take the pressure off the running game and open things up a little for Lynch and Jackson, even though the loss of Jason Peters (one of the league's best left tackles) may offset this advantage.
Derrick Ward, Bucs (5.01)
He's by no means a sure thing, but Derrick Ward has a chance to be this year's Michael Turner. He's a veteran backup with a high ypc (5.1…Turner's was 5.5 in San Diego) heading to a team in need of RB help who gave him starter's money. At 28, Ward is a couple of years older than Turner was when he joined the Falcons and the Bucs also have Earnest Graham and Carnell Williams, but given his pass-catching ability (which is better than Turner's), the multi-faceted Ward has a decent chance to be an every-down back in Tampa. Ward was excellent when given the opportunity to start in New York. He had 15+ carries eight times over the past two seasons, and averaged 104 rushing yards in those games. How many touches he gets will largely depend on Graham's production and health (and whether or not the new coaching staff intends to use Graham as a fullback).
Pierre Thomas, Saints (3.11)
Through the first eight games, Thomas only received 37 touches (30 rushes, 7 catches) for 172 total yards and three TD. Once he swapped roles with Deuce McAllister in Week 10, he never looked back. In a seven-game stretch, he averaged 17.6 touches for 105 total yards and 1.3 TD per game. Granted, Reggie Bush missed four of those seven games, but the Saints want to limit his workload and it appears that Thomas is perfectly capable of turning in 2006-era McAllister stats (1255 total yards, 8 TD), which was the first year that Deuce and Bush shared the same backfield. The Saints' offense is terrific and the offensive line is good, so there's room for two productive backs in New Orleans.
Darren McFadden, Raiders (5.03)
We have more confidence in McFadden's playmaking ability than we do in his durability. But if he can stay relatively healthy, he is undervalued at his current ADP, especially in PPR leagues. Simply stated, he's the Raiders' best offensive player, and while Justin Fargas and Michael Bush will do most of the work between the tackles, McFadden should get his share of touches since the organization wants him to be "The Guy." The Raiders' offensive line is average, but they'll be playing from behind quite a bit, and McFadden will be a big part of the team's passing attack.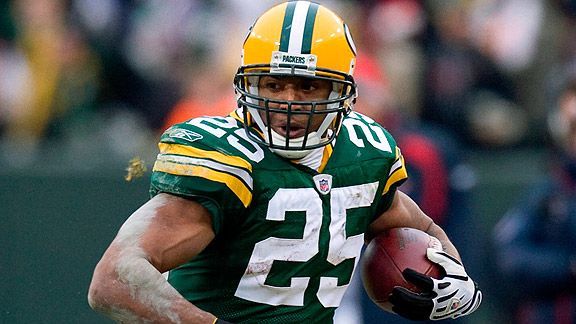 Ryan Grant, Packers (4.01)
Grant got off to a slow start in 2008 after holding out for much of training camp. But by Week 5, he started to hit his stride, averaging 94 total yards and 0.4 TD over the last 12 games. Obviously, we'd like to see his TD/game back up around 1.0 like it was in the last half of the 2007 season, but Grant gets most of the carries in the Green Bay offense and that's half the battle. For him to get back to his '07 (top 10) production, the Packer offensive line has to do a better job of run blocking or the team has to get him more involved in the passing game. But given his ADP, Grant would be doing well to finish in the 12-15 range, which is definitely doable.
Ray Rice, Ravens (7.02)
Rice has reportedly increased his strength by spending a lot of time in the weight room this summer, and is a good bet to lead the Ravens RBs in touches. Le'Ron McClain and Willis McGahee are going to get some work, but if either goes down, Rice would be an excellent value in the 6th or 7th. It's a little risky to pick a player that is part of a RBBC, but in the middle rounds, Rice has enough upside to make him worth it.
Cedric Benson, Bengals (7.02)
Yes…Cedric Benson. Granted, he's not going to light it up, but as a RB3 or as a RB2 in a flex league, he's a good value at his current ADP. Over the last eight games of the 2008 season, Benson averaged 13.2 fppg and was involved in the Cincy passing game. The Bengals lost T.J. Houshmandzadeh, which hurts the offense as a whole. But they replaced him with Laveranues Coles and they'll get Carson Palmer back, which should offset Housh's departure. Let's not forget that Benson was once a first round pick, and didn't suddenly forget how to run the football. Plus, he's been all business since the Bengals signed him, and the coaching staff has been impressed with his work ethic and attitude. Rookie RB Bernard Scott is a threat, but he's more of a big-play guy than an every-down back.
Here are our official RB rankings, by tier:
1. Maurice Jones-Drew
2. Adrian Peterson
3. Steven Jackson
4. LaDainian Tomlinson
5. Matt Forte
6. Frank Gore
7. Michael Turner
8. Steve Slaton
9. Chris Johnson
10. Brian Westbrook
11. Clinton Portis
12. Ronnie Brown
13. Marion Barber
14. DeAngelo Williams
15. Brandon Jacobs
16. Ryan Grant
17. Reggie Bush
18. Pierre Thomas
19. Kevin Smith
20. Knowshon Moreno
21. Marshawn Lynch
22. Darren McFadden
23. Derrick Ward
24. Larry Johnson
25. Ray Rice
26. Thomas Jones
27. Cedric Benson
28. Leon Washington
29. Julius Jones
30. Joseph Addai
31. Chris Wells
32. Willie Parker
33. Jamal Lewis
34. Donald Brown
35. Jonathan Stewart
36. Darren Sproles
37. Fred Jackson
38. Chester Taylor
39. Fred Taylor
40. Earnest Graham
41. LenDale White
42. Kevin Faulk
43. Rashard Mendenhall
44. Tim Hightower
45. Felix Jones
46. Ricky Williams
47. Jerome Harrison
48. Jerious Norwood
49. Kevin Jones
50. Jamaal Charles
51. Ahmad Bradshaw
52. Le'Ron McClain
53. Willis McGahee
54. LeSean McCoy
55. Shonn Greene
56. Bernard Scott
57. Brandon Jackson
58. LaMont Jordan
59. Laurence Maroney
60. Justin Fargas
Posted in: Fantasy Football
Tags: 2009 fantasy football preview, 2009 position rankings, Fantasy Football, Fantasy football draft strategy, fantasy football preview, fantasy football RBs, fantasy football running backs, fantasy football strategy, fantasy RBs, fantasy running backs, value fantasy RBs