Should G-Men fear Cowboys in 2009?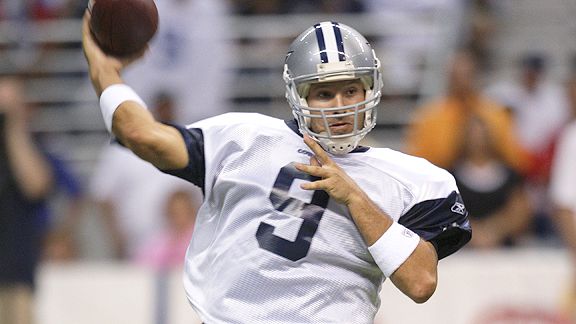 Our very own Mike Farley covers the Giants for the blog GMENDEN and in one of his recent pieces he ponders whether or not the boys in blue should be fearful of the Cowboys.
Well I don't know about you, but I'm equally afraid of Dallas as I am of Philly. It's not like the Cowboys purged their entire roster. They did get rid of two questionable characters in Terrell Owens and Pacman Jones. But Tony Romo is minus Jessica Simpson and is healthy…you might remember he missed a few games last season, and having Brad Johnson run that offense was like putting a toddler in charge of a nuclear power plant. TE Jason Witten was also hurt for much of the season, though he played through pain. Rookie Felix Jones made everyone forget about Julius Jones, and DeMarcus Ware was just terrorizing QBs with an NFL-best 20 sacks.

You'll also remember that while our G-men beat up on the Romo-less Cowboys in November, 35-14, they let a less-than-100% Romo beat them in December during the skid that led to our downfall by a 20-8 score. You rememer that game, right? It was a Sunday nighter, and the Giants managed just two field goals and a safety, as Eli Manning could not get on track.

So while the Cowboys finished 9-7 in 2008, you have to wonder if they would have won at least two of those games Johnson started in Romo's place. As much as everyone likes to poke fun at Romo and his tendency to choke under pressure, he's been mostly very tough against us–tough to take down, and always hitting clutch third-down throws while under pressure.
The NFC East will once again be one of the toughest divisions in football and as Farley points out, nobody should be sleeping on the Cowboys.
Personally, I think cutting T.O. will be addition by subtraction, although the spotlight is now on Romo. If he can't step up and be a leader for this team, then there's a great chance that their talent won't be enough again. As much as his fun-loving demeanor is one of the endearing parts of his game, it's time for Romo to take that next step as a quarterback and put the Cowboys' success squarely on his shoulders.
Now, that's not to say that Romo has to do it on his own. Dallas has one of the more talented rosters in the NFL and Romo is just one key piece. But guys like Peyton Manning, Ben Roethlisberger and Tom Brady know what it takes to get the most out of the talent around them. Romo has failed to do that so far in Dallas.