Jeff Passan's 25 things you didn't know about baseball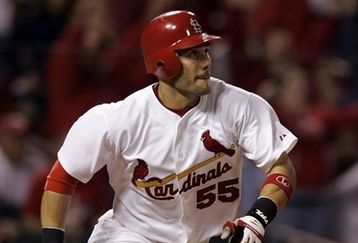 Jeff Passan of Yahoo! Sports recently discovered FanGraphs, a great baseball website which uses complicated algorithms to determine attributes about players. Passan compiled 25 intriguing stats that the common fan would never realize unless they went to this site.
1) The best fastball in baseball is 88.4 mph.

And it belongs to Jarrod Washburn. He also throws a slider, cutter, curveball and changeup, but his average-velocity fastball is the dagger of the bunch. At 22.4 runs above average this year, it has been more effective than the fastest (Ubaldo Jimenez) and the slowest (Jamie Moyer). The most amazing part: Washburn's fastball was actually 8.3 runs below average last year.

6) The best pitch in baseball is a changeup, and you'll never guess who throws it.

Tim Lincecum came up heralded for his blazing fastball and hammer curveball, and neither is close to his best pitch. Lincecum's changeup has been 27.5 runs above average this year, the highest total for any pitch and almost double the second-best change, Brian Tallet's 14-runs-above special. It's not like Lincecum piles up the runs above average by throwing the changeup egregiously. His 5.62 runs above per 100 changeups thrown is also the best for that pitch.

15) One person has three pitches that are among the five best in runs above average.

More evidence that Dan Haren is the business: He's got the best splitter in baseball (7.2 runs above average), the fourth-best cutter (13.7 above average) and the fifth-best fastball (19.3 above average).

25) Six players in baseball do not have a weakness on a specific pitch.

As you know, Pujols isn't one of them. Joe Mauer is an easy guess, and it would be correct. Same with Cabrera, who has the privilege of being the only player above average in all six categories – knuckleball included. Torii Hunter(notes) just makes it, one-one hundredth a run in the black on curveballs, and his center field peer Adam Jones(notes) joins him. The two National League representatives come from the Central Division. Cincinnati first baseman Joey Votto(notes) is a monster. The other is not. He hits .292. He slugs .386. He is the epitome of utility. The final player without a weakness: Skip Schumaker(notes).
If I'm a professional baseball player, I'm checking this site everyday, as it reports useable statistics scouts are even missing. The people they have contributing to the site are all very serious and spend days mapping out an athlete's progression or regression in various areas. Be sure to check out Passan's entire list as well as the FanGraphs page.
And what about that Dan Haren? These stats show that he has the stuff of a Cy Young-worthy pitcher. It should either be he or Lincecum who ends up with the award in the NL. While the Diamonbacks have no chance of making the playoffs, at least Haren can accomplish this feat on his own. As for Lincecum, his team is looking better by the day.
Posted in: MLB
Tags: Adam Jones, Adam Jones weakness, Albert Pujols, Albert Pujols weakness, baseball debates, baseball graphs, baseball nerds, baseball statistics, baseball stats, Dan Haren, Dan Haren pitches, FranGraphs, jarrod washburn, Jarrod Washburn fastball, Jeff Passan, Joe Mauer, Joe Mauer weakness, Joey Votto, Joey Votto weakness, Miguel Cabrera, Miguel Cabrera weakness, Skip Schumaker, Skip Schumaker weakness, Tim Lincecum, Tim Lincecum changeup, Torii Hunter, Torii Hunter weakness, weird baseball stats