Browns' Edwards returns to practice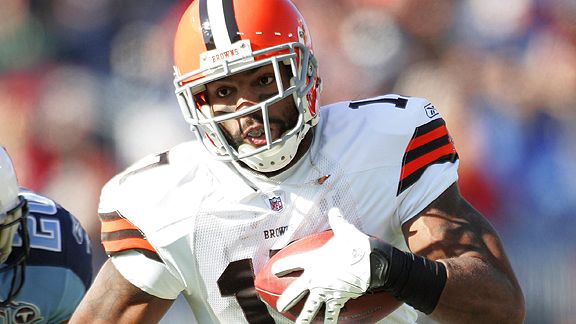 Browns wideout Braylon Edwards practiced for the first time in training came on Wednesday, after missing six practices with an undisclosed injury.
From the Cleveland Plain Dealer:
Edwards had missed the first four days and six practices because of an undisclosed injury, believed to be on an ankle, that occurred off the field prior to the June minicamp.

Edwards reported to camp a day late and then failed to pass the team's physical. By appearing on the field this morning, it means the club's medical staff cleared Edwards to practice.
If you're Edwards, you have to be concerned with the way your contract year has started off. As the article notes, he reported to training camp late after head coach Eric Mangini told him to be there a couple days earlier so that he could take a physical. Then of course he fails his physical, yet nobody knows what the injury was. (Some speculate that he hurt his ankle playing basketball, while others believe he faked the injury in some kind of unique holdout attempt.)
If Edwards wants someone to pay him like a No. 1 receiver (whether it's the Browns or another team), then he better start making a better impression. (Catching the ball would help too.)