Friendlies can only help the MLS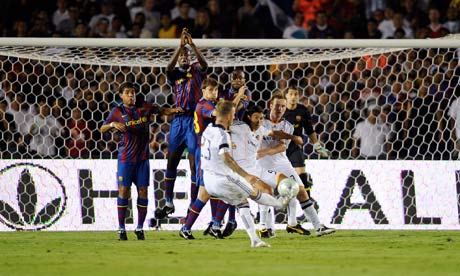 When a crowd of 93,137 filled the Rose Bowl yesterday to see the Los Angeles Galaxy take on FC Barcelona, it was obvious that this is what the MLS needs more of.
These fans, part of the largest crowd to see a soccer game in the U.S. since the 1994 World Cup, didn't need to be told to clap or to scream loud enough to ratchet up a phony noise meter.

They appreciated the jaw-dropping passing of Lionel Messi and Pedro Rodriguez, the speed and skill of a game played with fervor and at a high level, and they showed it at every turn. They also showed their passion by booing Beckham for the nearly 87 minutes he played, still scornful that he's an MLS drop-in.

Beckham, fined $1,000 last month for attempting to combat a heckler during the Galaxy's friendly against AC Milan, silenced the jeers when he powered a free kick through the defensive wall for the Galaxy's goal in the 45th minute.

There is an audience for soccer, for the big occasions when remarkable club teams such as Barcelona visit. Yet, Saturday's crowd was about six times bigger than the average MLS crowd, which was about 15,515 through mid-July.
It's funny to think that more than 70,000 people would rather watch an MLS team take on a European squad rather than one from their own league. This shows us that American soccer fans follow, or are at least more interested, in foreign teams. Of course, these teams have been around decades longer than those from the MLS, amassing diehard fans whether or not they are from the team's country.
Fact is, these friendlies are extremely helpful for the MLS. This ideal situation is one where a big-market team like the Galaxy actually beats the stronger foreign opponent. There's nothing European and South American soccer fans hate more than losing to a team from the United States.
The goal here is to generate more interest from both American fans and those abroad. Like the U.S. national team beating Spain in the Confederations Cup, if an MLS team can grab a victory against a club like FC Barcelona, ratings and attendance will gradually increase. It didn't happen on Saturday, but hopefully it will in the future.