Red Sox, Padres discussing deal for Gonzalez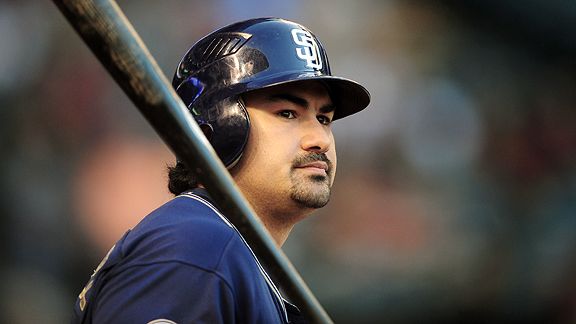 According to a report by the Boston Globe, the Red Sox and Padres are in discussions about a deal that would send slugger Adrian Gonzalez to Beantown.
Padres GM Kevin Towers was said to be asking for "a ton" for Gonzalez according to one major league source familiar with the Padres' thinking. Some of the names being discussed included Clay Buchholz, Lars Anderson, Jed Lowrie, Ryan Westmoreland, Justin Masterson and others, but no word on whether the Red Sox had offered a package for Gonzalez.

Less was known about the status of talks between Cleveland and Boston for Victor Martinez. The teams have been discussing Martinez for quite some time, but the Red Sox have been reluctant to deliver Buchholz for the catcher/first baseman.

Toronto GM J.P. Ricciardi remained pessimistic about trading Roy Halladay, but as one team's top advisor said last night, "where there's a huge pitcher available some teams don't show their best hand until the final moments of the deadline. You might see that with Boston at the end."
I don't know how Boston fans feel, but as an outsider, it seems like the Red Sox are lacking something offensively. They're going to be in contention for either the AL East crown or the AL Wild Card no matter what. But adding a slugger like Gonzo would certainly add more pop to their lineup and give them some extra firepower against the Yankees and Rays in the division.
But is he worth the price? After a hot start, he's only hitting .252 with 28 home runs. This is after racing out to 15 home runs and a .311 average in mid May. One would think that his numbers would rise in Boston's lineup, but his average is death right now.